Tallahassee's skateboard scene is booming with possibility for those who love to shred at the Mike Blankenship Skate Park. We talk with skateboarders Jerry Yates and Nolan Blanchard along with Phaze One owner Orlando "Orly" Vazquez.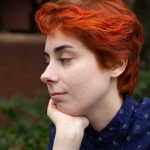 Robbie Gaffney is a recent graduate from Florida State University with degrees in Digital Media Production and Creative Writing. Before working at WFSU, they recorded FSU's basketball and baseball games for Seminole Productions as well as interned for the PBS Station in Largo, Florida.
Robbie loves playing video games such as Shadow of the Colossus, Legend of Zelda: Majora's Mask, and Final Fantasy Crystal Chronicles. Their other hobbies include sleeping and watching anime.