Greenwood's only grocery store—The Greenwood Supermarket—caught fire after Hurricane Michael. Now, the small town is a food desert; neighbors can't afford fresh food due to recovery costs from the storm. Help is coming as concerned neighbors band together and organize food giveaways—but the community says it's not enough. Lines for the giveaways are already hours long.
History Destroyed
In Jackson County, Greenwood is a small town nestled between Marianna and Malone. Civil War-era homes dot the roadside: the Hayes, Erwin, and Great Oaks houses being the most notable.
Now, some of these historic buildings, like Christina Jeter's home, have been damaged due to Hurricane Michael. Jeter says her childhood home was built in 1856. She bought the house after her father passed away. "We started doing some remodeling to it but everything we've put into it is destroyed," she says.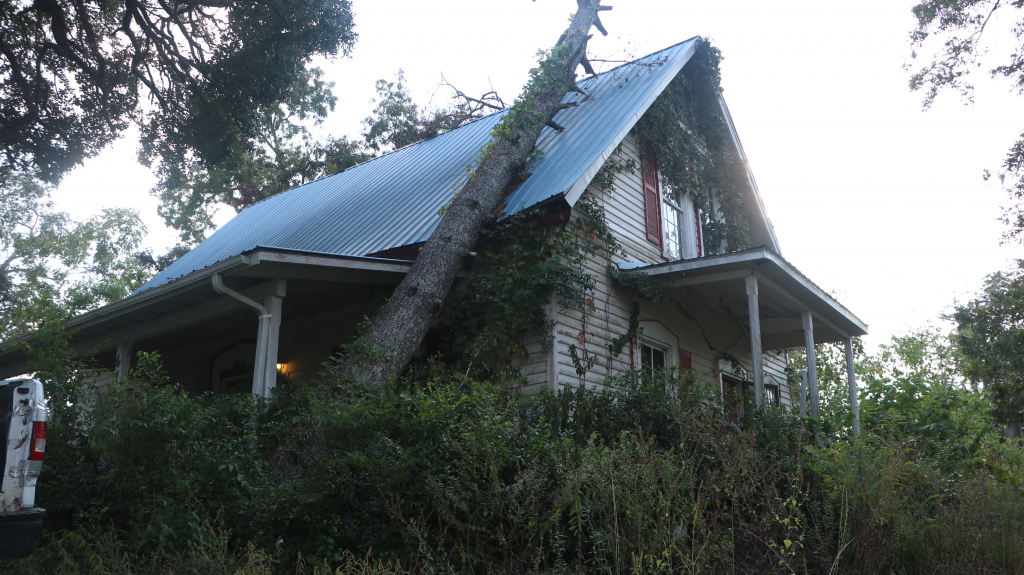 Jeter lost her job as a caretaker after the hurricane and can't afford to repair the home. One of the trees collapsed on her house and mold has invaded almost every room. Contractors have quoted her $10,000 to remove the tree. It's a hefty price for someone who now works as a roofer.
Jeter has been living with no air conditioning for the past year. "We didn't even have electricity for months. We lived without running water for I don't even know how long," says Jeter.
Greenwood Florida, Food Desert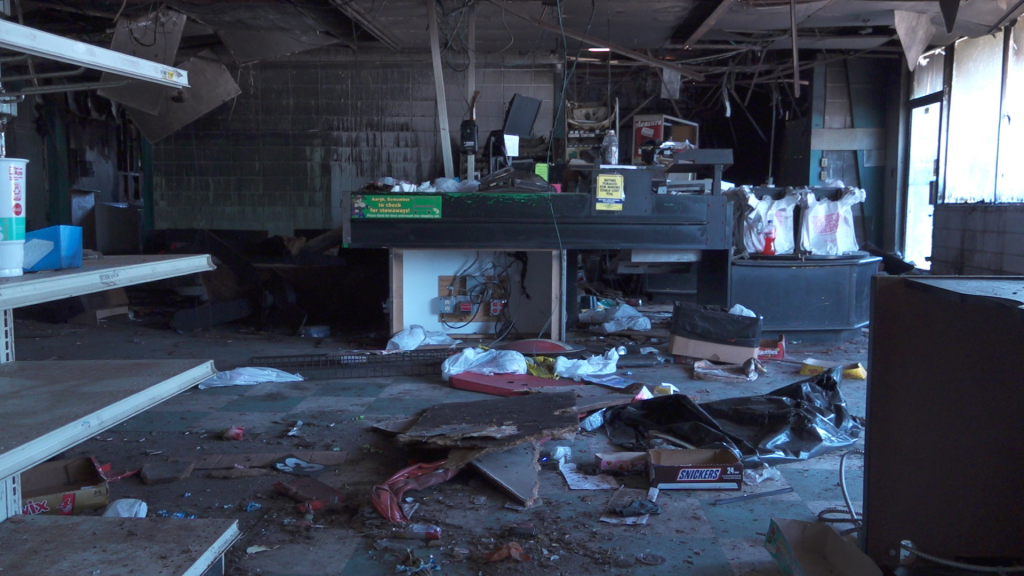 Greenwood has no restaurants, no gas stations, and for the past year, no grocery store. The only supermarket caught fire after the storm. The owners applied for a loan in January, but the flames burned their paperwork which has slowed the approval process.
"It's that down-home mom and pop store that you don't find much anymore," says the store's manager Tiffany Money. "There's a lot of elderly in this community and then we have two state facilities and a federal facility right here that all got lunch from here and got their groceries on the way home and lots of little businesses that relied on us to get what they need," says Money.
Now, the nearest grocery store is a 10-minute drive. This drive is difficult for many because countless cars were destroyed or damaged by the hurricane.
Folks like Jeter have had to shop at the Dollar General—but it doesn't stock fresh produce. "It's basically if you want anything, want something to drink, you want sugar, you want toilet paper, you want anything that you're out of you either walk or beg for a ride. And you can only ask for a ride so many times before it becomes a burden to somebody else," Jeter says.
It's about a 45-minute walk to the Dollar General for Jeter and the path is treacherous. Cars and trucks zoom by and there's barely a sidewalk.
April Garrett's family has made that trek from their home to the Dollar General as well. A tree fell on her car during the hurricane and she can't afford to get it fixed.  
Garrett says the walk was horrible. "It was highly embarrassing because people would see us on the side of the road and sometimes they would be kind enough to bring us home but it just made it really hard," says Garrett. 
Neighbors Helping Neighbors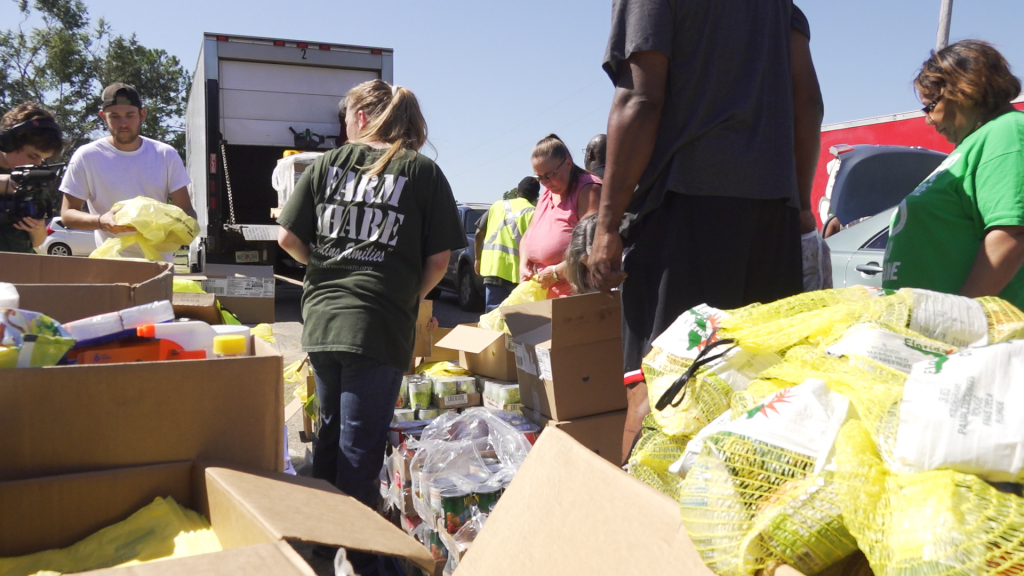 Missy Harcus is a recent retiree from Jacksonville, Florida. After Michael, she went knocking door to door to find out how her neighbors were faring.
Harcus says she was shocked to find out that so many of her neighbors were in poverty. These days, Harcus says she spends 30 to 40 hours on the phone per week to organize food giveaways in Greenwood.
"It's hard. It's been very hard, you know? Us trying to support this community just as a volunteer base alone and without having any help from the government. And it's just us doing it ourselves to make between thirty, forty hours worth of phone calls a week just to get some food in," Harcus says.
"I believe we are the forgotten county."

Anita Crawford, Greenwood resident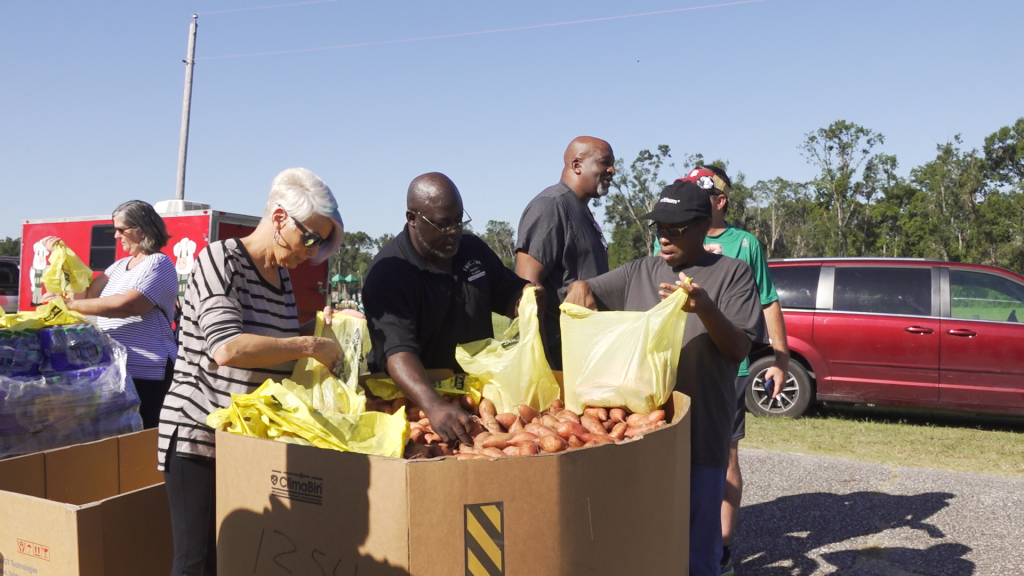 Harcus has been in touch with IKIC Inc. founder Hardy Hill, who reached out to Line in the Sand Foundation's Brian Padgett. WFSU recounted Padgett's story back in January after he set up his BBQ stand, "Jarheadz," to feed Port St. Joe's hurricane survivors. His stand was also present during Greenwood's September 6th food giveaway.
Second Harvest of the Big Bend was also present for the giveaway, offering 9,776 pounds of food. Watermelons, sweet potatoes, canned green beans, and more were given out to those who waited in line at the Greenwood Community Park. Cars snaked around the premises, with some parked on the roadside in hopes of receiving the handout.
I found Anita Crawford waiting in her car at the tail end of the line. She told me that there was nothing left of her house. "I believe we are the forgotten county. Jackson county. Especially Greenwood," says Crawford.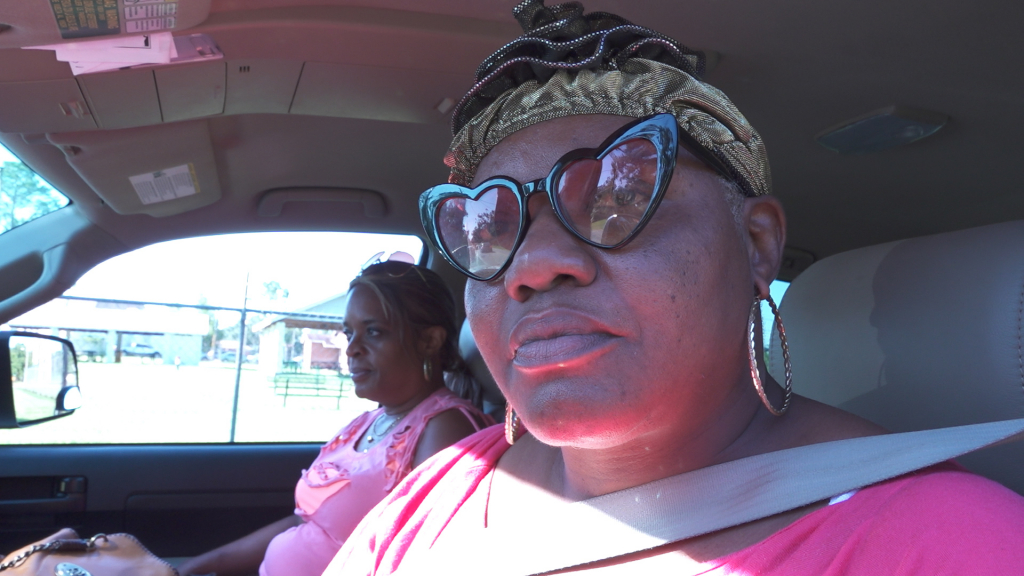 What's Next for Greenwood?
Missy Harcus says she will continue to organize food and clothing giveaways for Greenwood, but she's always looking for help. If you're interested in learning more about how to help Greenwood, you can visit Jaco Angel's Hurricane Relief Facebook page.
Robbie Gaffney is a recent graduate from Florida State University with degrees in Digital Media Production and Creative Writing. Before working at WFSU, they recorded FSU's basketball and baseball games for Seminole Productions as well as interned for the PBS Station in Largo, Florida.
Robbie loves playing video games such as Shadow of the Colossus, Legend of Zelda: Majora's Mask, and Final Fantasy Crystal Chronicles. Their other hobbies include sleeping and watching anime.