The lead story in this episode is about the new LeMoyne Arts Exhibit, "Women Among Us: Portraits in Strength," but the entire episode features stories about amazing people in our community.
"Women Among Us"
The story behind the women in the "Women Among Us" project is one that is as intriguing as the exhibit itself. WFSU's Mike Plummer met with the women who came up with the initial idea and then the others who expanded the vision of the project: Eleanor Dietrich, Linda Hall, Becki Rutta, Mary Jane Ryals and Lynne Knight. You can see (and share) the full story here.
A black birder's perspective
Dara Wilson has a unique perspective on the natural world. She has had experiences most people would envy like volunteering at Comunidad Inti Wara Yassi in Bolivia where she helped care for rescued big and small cats, monkeys, and birds. One was a puma named luna! But because of the color of Dara's skin, she's also had other experiences that are not envious. She shares her perspective with WFSU's Rob Diaz de Villegas. See her full story here.
The vibes of Velma Frye
Velma Frye hosted WFSU's Studio A program in the 80s. Today she still brings music into people's lives. Discover Velma Frye's adventures in this story by WFSU's Robby Gaffney.
Remembering Carlisle Floyd
Composer Carlisle Floyd created well-known operas like "Susannah" and "Prince of Players" throughout his life. He passed away September 30, 2021 in Tallahassee at the age of 95. FSU Professor Douglas Fisher shares his memories of the American Opera Legend in this story produced by WFSU's Amy Diaz de Villegas.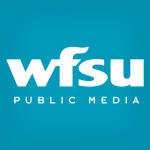 Suzanne Smith is Executive Producer for Television at WFSU Public Media. She oversees the production of local programs at WFSU, is host of WFSU Local Routes, and a regular content contributor.
Suzanne's love for PBS began early with programs like Sesame Street and Mister Rogers' Neighborhood and continues to this day. She earned a Bachelor of Journalism degree from the University of Missouri with minors in political science and history. She also received a Master of Arts in Mass Communication from the University of Florida.
Suzanne spent many years working in commercial news as Producer and Executive Producer in cities throughout the country before coming to WFSU in 2003. She is a past chair of the National Educational Telecommunications Association's Content Peer Learning Community and a member of Public Media Women in Leadership organization.
In her free time, Suzanne enjoys spending time with family, reading, watching television, and exploring our community.