Originally Published: November 9, 2017
Bruce Means and his fellow researchers at Florida State University have recently discovered that what was once considered a single species of salamander was at least five species. One of the new species is the Hillis's dwarf salamander, which is found between the Chipola and Choctawhatchee Rivers in north Florida. There, it inhabits an ecosystem known as a seepage slope.
Watching this field work, I'm reminded of a visit to my first grade son's classroom at the beginning of the school year. Max's science teacher explained that they were starting their science curriculum by learning about the five senses as a toolkit for collecting data. Right now I'm seeing this toolkit in action. Dirt under his fingernails, Bruce Means's hands and eyes are working furiously. He's tasting the water that makes this a habitable environment for the salamander. He's fully engaging his senses in the world of this animal.
After about an hour of searching for salamanders, Bruce Means stops to grab a drink. It's a hot summer day, and about time for some cool refreshment. He gets down on his hands and knees and presses his lips against the muck on the slope. There, cool, clean water is seeping from an underground lake, creating the ecosystem favored by the subject of our search.
This is the Hillis's Dwarf salamander (Eurycea hillisi), a species new to science. It's here somewhere under the sphagnum moss carpeting a seepage slope by the Chipola River. Dr. Means is showing us some of the work that went into the discovery of the species. His hands are in the muck, plucking bits of sphagnum off the slope as his eyes scan for tiny fleeing critters. As he works, spiders and insects are crawling all over him. (Check that spider spinning a web off him at 01:29).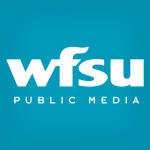 Rob Diaz de Villegas is a senior producer for television at WFSU Public Media, covering outdoors and ecology. After years of producing the music program OutLoud, Rob found himself in a salt marsh with a camera, and found a new professional calling as well. That project, the National Science Foundation funded "In the Grass, On the Reef," spawned the award-winning WFSU Ecology Blog. Now in its tenth year, the Ecology Blog recently wrapped its most ambitious endeavor, the EcoCitizen Project.
Rob is married with two young sons, who make a pretty fantastic adventure squad.