Join us on an adventure across the Apalachicola Lowlands, home to an incredible diversity of carnivorous plants and other wildflowers.
he shoot, technically, was over. Fellow WFSU Ecology Blogger Dani Davis and I had come for frosted flatwoods salamander larvae footage, and we shot our fill. Look for that segment later.
Anyhow, I had driven all the way from Tallahassee. We were at a US Forest Service facility deep in the Apalachicola National Forest, not far from the salamander's habitat. When we filmed FWC biologist Pierson Hill collecting eggs in December, the animal's ephemeral wetland breeding ponds were dry. But there'd been a good amount of rain by late March. It was a great opportunity to film the ponds full, to illustrate the wet/ dry cycle of these dynamic wetlands. After all, the frosted's ecology is bound to it.
So I wanted to get some full pond footage. And also, I'd been seeing flowering carnivorous plants all over Facebook. There were likely to be some around these wetlands… so maybe I wouldn't have been opposed to some additional exploring.
Pierson gave me the location of a wetland along County Road 379 near Sumatra. And since I'd be not too far away, Dani gave me the location of a recently burned pitcher plant bog. It ended up being a longer shoot day than I had expected, but in the best possible way.
By the Ephemeral Wetland, a Rare Carnivorous Plant
First thought- I should have brought my muck boots. When it comes to those "I'll get a few shots after" excursions, I get to thinking that I'll be in and out. Like maybe I could just shoot a few shots from the car on the way home. No, no, no. I'm in the forest with a camera. I'm going to wander.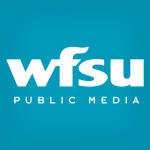 Rob Diaz de Villegas is a senior producer for television at WFSU Public Media, covering outdoors and ecology. After years of producing the music program OutLoud, Rob found himself in a salt marsh with a camera, and found a new professional calling as well. That project, the National Science Foundation funded "In the Grass, On the Reef," spawned the award-winning WFSU Ecology Blog. Now in its tenth year, the Ecology Blog recently wrapped its most ambitious endeavor, the EcoCitizen Project.
Rob is married with two young sons, who make a pretty fantastic adventure squad.