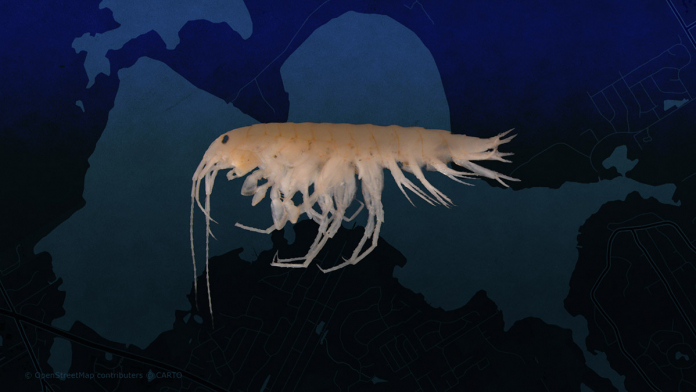 Just over a year after it dried down, I visit Lake Jackson and find it holding water- for now. Dr. Tom Sawicki is netting the lake edge, or what has recently become the lake edge again. After a year of low water levels, the lake has expanded beyond scattered pools, and Porter Sink is submerged. Water is starting to reach the vegetation surrounding the lake, the habitat of Crangonyx apalachee. But Tom isn't finding the small amphipod today.
Tom Sawicki is the principal investigator of Florida A&M University's Groundwater Biodiversity Lab. He and his students have been diving into caves across Florida looking for minuscule, shrimp-like crustaceans. Doing this, they've discovered a few new species living in extreme environments. Crangonyx apalachee is a surface water relative of those blind cave dwellers. And Tom's lab discovered it almost by accident.
What brought Tom to Lake Jackson was its groundwater connection with Wakulla Spring. A dye trace conducted by McGlynn Labs has connected Porter Sink to the spring; when water drains into the sink, it travels underground to Wakulla. Tom was out on a boat collecting water samples from the lake with the Wakulla Springs Alliance, and his graduate student at the time, Andrew Cannizzaro, decided to stay back and net the area by the boat ramp.
That impromptu act of netting paid off. Taking his samples back to the lab, he and Tom found that they had a species new to science.
They've found closely related Crangonyx in nearby lakes, but so far, C. apalachee is found nowhere but Lake Jackson. So while Tom and his current graduate student may not see the little critter today, in June of 2022, this isn't its first rodeo. It should know what to do when the lake dries down. Tom just has to figure out what that is.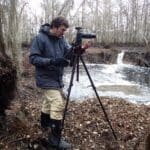 Rob Diaz de Villegas is a senior producer for television at WFSU Public Media, covering outdoors and ecology. After years of producing the music program OutLoud, Rob found himself in a salt marsh with a camera, and found a new professional calling as well. That project, the National Science Foundation funded "In the Grass, On the Reef," spawned the award-winning WFSU Ecology Blog. Now in its tenth year, the Ecology Blog recently wrapped its most ambitious endeavor, the EcoCitizen Project.
Rob is married with two young sons, who make a pretty fantastic adventure squad.