The first time I meet Chris Omni, we take off our shoes and walk barefoot in Governor's Park. It's an exercise in mindfulness in nature. Without shoes, we walk more slowly and take in our surroundings. We feel the grass in our toes; in the shade the grass is moist, while in full sun it has dried. She notes the shapes and spacing of a row of pines cutting across a large field.
Chris is pursuing a PhD in Art Education at Florida State University. She takes in the textures, the light and shadows of the plants we see. It's a contrast to what has become my approach to nature- to identify plants and animals by name, and pay attention to the ecological relationships between them. I'm very much interested in function. Chris Omni is very much interested in form and feel, and admits she doesn't know the names of many of the plants she enjoys.
That enjoyment, they joy, that's the thing.
Her dissertation is titled Black Joy in Green Spaces. The central research question is What can we Black women learn from being (together) in green spaces? Her previous degrees and work experience are in health care, and her interest is in the healing and restorative properties of time spent surrounded by trees.
She starts officially in the fall, but has been busy conceiving of the many pieces of her dissertation. One is a business, the Mother Earth Academy. Another is a series of interviews with Black women about their relationship with nature. And yet another is an art installation at LeMoyne Arts in Tallahassee.
Throughout the month of May (2022), I visit Chris as she crafts this, her first exhibited artwork.
Chris Omni's Healing Gardens
On a deck, shaded by trees, Chris introduces me to her healing gardens. Each has its own corner of the deck, and each has its own significance.
"So I have a lot of different gardens and a lot of different healing spaces, because even though people call me a gardener, I call myself a grower." Chris says. "A lot of times with gardeners, they say you have a green thumb. And I don't. You'll see pretty soon that I have a lot of plants; but as a grower, rather than a gardener, I grow with love.
"No green thumb. I have a green heart."
The first space is for cast-offs, plants Chris has found abandoned by the side of the road.
"Somebody discarded every last one of these plants," Chris says. "It was something that they discarded and something that they no longer saw value in. But to me, I saw life and potential."
Next is a garden of plants gifted to Chris. "When we move to this side, we go from the gift of love that I find, versus the gift of love that is given to me."
This includes a snake plant which she will, in turn, share with others through her Propagating Joy exhibit. We'll get to that in a second. First, we'll visit the third of her healing gardens.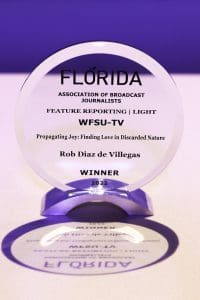 Congratulations to WFSU Producer Rob Diaz de Villegas for winning a 2022 Florida Association of Broadcast Journalist award for this story on Propagating Joy!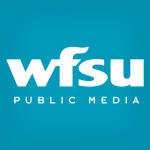 Rob Diaz de Villegas is a senior producer for television at WFSU Public Media, covering outdoors and ecology. After years of producing the music program OutLoud, Rob found himself in a salt marsh with a camera, and found a new professional calling as well. That project, the National Science Foundation funded "In the Grass, On the Reef," spawned the award-winning WFSU Ecology Blog. Now in its tenth year, the Ecology Blog recently wrapped its most ambitious endeavor, the EcoCitizen Project.
Rob is married with two young sons, who make a pretty fantastic adventure squad.