It's another boiling-hot Friday in the Florida panhandle. Driving into downtown Blountstown there's a big blue tarp covering the roof of the historic county courthouse building that is supposed to house the Calhoun County Sheriff's Department. That blue tarp is coming up on its one-year anniversary adorning the structure. October 10, 2018 is the day Hurricane Michael blasted through the county laying waste to structures and livelihoods. It will be an unhappy anniversary. 
"…it lends to a lot of frustration and fear. And that's what we're dealing with right now."

Kristy Terry, Calhoun Co. Chamber of Commerce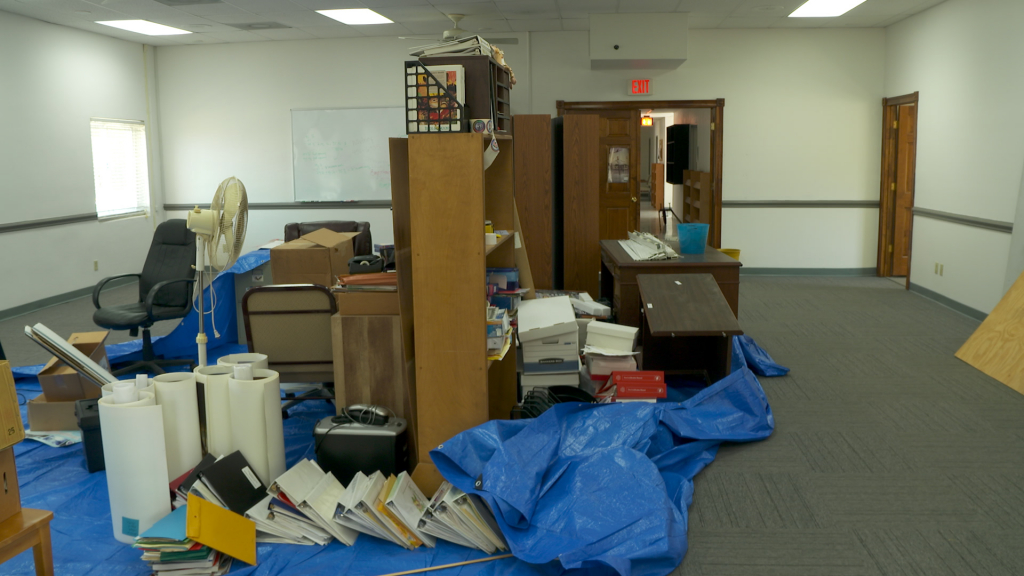 Next door to the historic courthouse building is the Calhoun County Chamber of Commerce.  Today is a homecoming of sorts. Just two weeks shy of Hurricane Michael's first anniversary, the Chamber is finally returning to its regular home. 
Asked about the dubious occasion, Executive Director Kristy Terry says the recovery has been disheartening so far.  "When people…don't feel like their family is in a safe, secure place then it lends to a lot of frustration and fear. And that's what we're dealing with right now."  She estimates that about 40 percent of all structures in Calhoun County still have blue tarps on their roofs. In a refrain I'll hear a lot today, she says housing is an issue. Time and the elements have been working against them.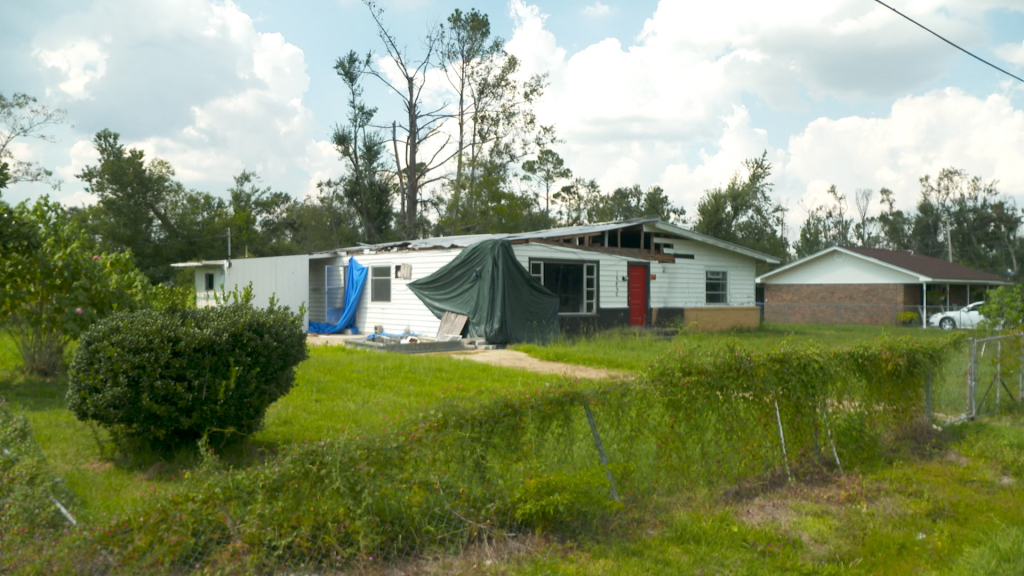 The Community is Feeling Forgotten and Let Down
As damaged properties linger, they become more expensive to fix, or eventually uninhabitable. 
Terry believes the community is feeling forgotten and let down. "You assume that when a storm like this comes and it's utter devastation, that the cavalry will come in and that things will get better…and that hasn't happened. It took us a long time to get any federal aid moving and we still, I mean that's a long way out, even for it to trickle down to us."
She continues, "The state—we didn't really get that much assistance through session last year. We're really hopeful for the next legislative session." 
Terry tries to remain positive and is thankful the chamber is finally back in its own digs. But when asked directly about her own situation, she admits that she's still paying rent for a place to live, while maintaining a mortgage on a damaged home. It is not a very happy anniversary for the Terry family.
"Now, a year later, you're still alive but your life is not back to normal."

Jon Plummer, Pharmacy Owner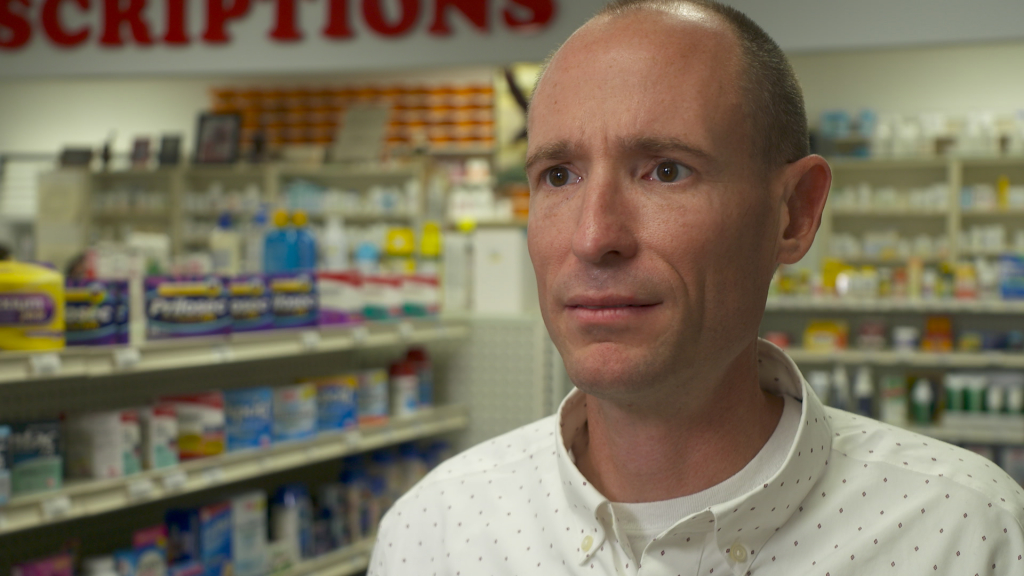 Down the street, pharmacist and drugstore owner Jon Plummer has grown weary and jaded of the recovery effort.  "Right after the storm, you're just happy to be alive.  Now, a year later, you're still alive but your life is not back to normal.  People's homes still have blue tarps on them. There's tons of people that still, when it rains, they get water in their living room." 
The slow crawl of the recovery is wearing thin on him. Damage to his store was minimal, but the townsfolk who weren't so lucky walk through his doors on a daily basis. He sees what this forgotten storm is still doing to his forgotten town.   
"…there are a lot of people that are really, really hurt."

Danny Ryals, Realtor/Schoolbord Member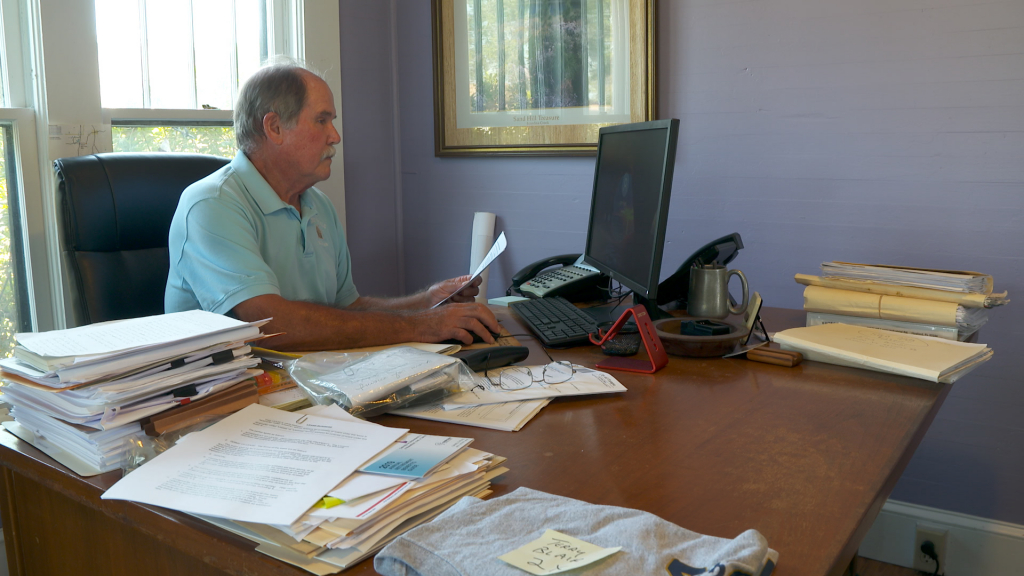 Further up the street, local real estate broker and school board member Danny Ryals tells a similar tale of blue tarps and struggle. "I saw a couple places here just a couple months ago riding around…had an old shotgun type house…a big tree had fell on one end, they were camping out in the other end. Right next to it was an old singlewide mobile home…same thing, big tree on one end, camping out in the other end. They don't have any insurance. They don't have any money…and it's tough. And that's just… it's all over. The more you ride around, the more you see. And it's uh, there are a lot of people that are really, really hurt."  
No Jobs, No Money, No Place to Live
Hurricane Michael left behind more than destruction. It left behind a self-fulfilling cycle of community atrophy.
The local timber industry has been crippled; there are fewer jobs and little money. There is not enough housing because so much was destroyed or damaged by the hurricane. No one will buy a house with a damaged roof. Nobody wants to buy timberland covered in twisted, decaying, worthless dead trees. No jobs, no money, no place to live.
This is not a good situation. And on top of that Mr. Ryals adds this little nugget of despair: "…the lack of funding that we received from the state and federal government really impacted us. I mean I was shocked that we didn't get, uh didn't get any more help than we did."  
Unhappy anniversary, Mr. Ryals. 
The Blue Tarp Roof Club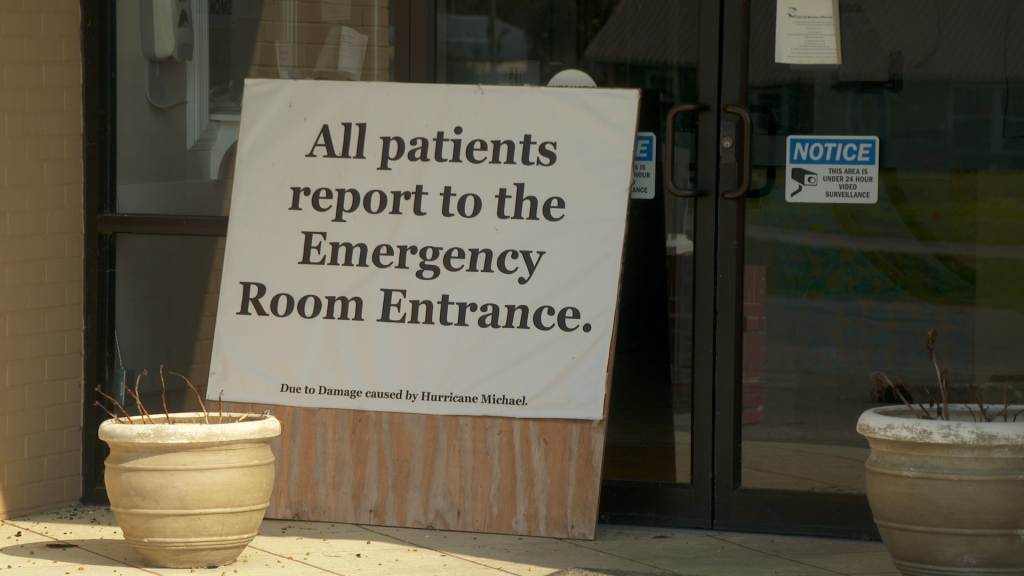 Over at the hospital, the mood is more upbeat. I'll attribute that to their ingrained nurturing sensibility, but know this: a third of their usable space was lost to hurricane damage. It took five months to get ten of what had been twenty-five beds available for use. 
Calhoun Liberty Hospital was built when Dwight Eisenhower was president; it is well beyond remediation. The uninsured patient ratio has more than doubled, to about a third of all patients coming into the facility. 
CEO Janet Kinney is resolute about the hospital's place in the community. "We work with them as best we can. We're not going to turn them away, but we're certainly going to try to help meet their needs."
She continues, "But it is a challenge, uh, you know these patients, they want to pay their bill. They want to be self-sufficient. But it's just been tough with the loss of industry and the loss of jobs around here."
Many of the hospital's own staff are counted among the blue tarp roof club, but they come in every day, ready to mend and heal others in the community. Ms. Kinney says they are looking forward to building a new hospital within about 18 months. Maybe they can look forward to a different anniversary soon.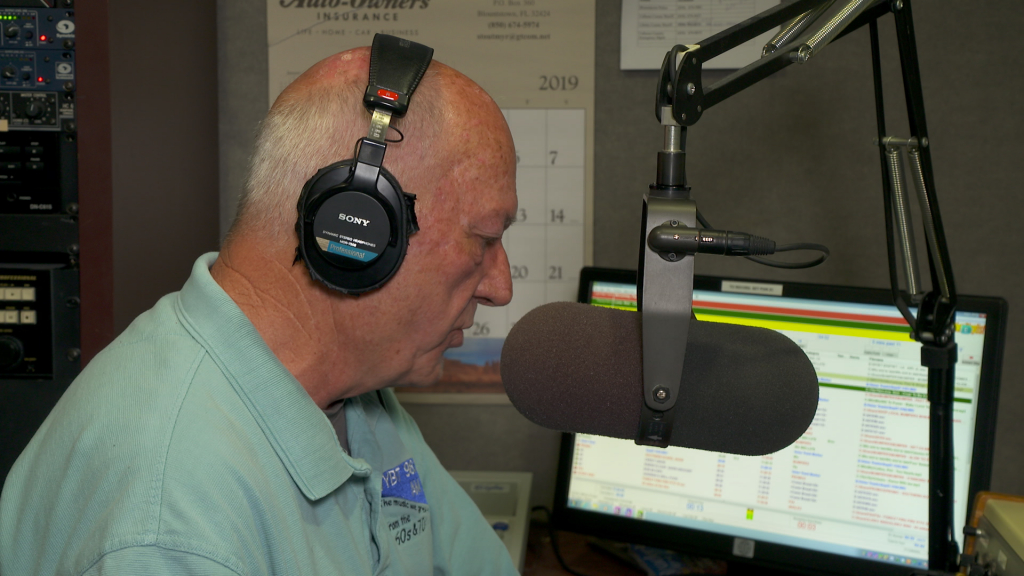 So, it's been a year since the forgotten storm, people are feeling the stress, students have been Baker-Acted, young children are still fearful. Pharmacist Jon Plummer laments, "Every time it thunders now my kids get worried about it. If it's windy, my children are worried that a storm's coming. And those are things you don't normally think about, but those who stayed during the storm, they're still having those effects." 
Local radio station owner, Jim Dooley affirms that thought, "It's very stressful…it's the topic of conversation. Just. About. Every. Day.  And um, it's something that we're…it's going to take a generation or two, to get over this."
Unhappy anniversary Hurricane Michael. One year down, how many more to go?
See Mike's previous February 2019 stories on Blountstown following the storm: Picking up the Pieces, Part 1 and Picking up the Pieces, Part 2.
Mike Plummer is a content producer and editor for television at WFSU Public Media. He spent 25 years in commercial television as an art director, commercial director, promotion manager, station manager and creative services director before coming to WFSU in 2008. Mike likes to find the "unusual" or "out of the ordinary" stories in our Local Routes. He says the best part of his job is getting to know people he would otherwise probably not get a chance to meet. Mike is widowed, has two terriers named Truman and Dexter, and is constantly at war with the vines growing in his backyard.