Originally Published: December 17, 2020
WFSU's Mike Plummer shows us the fateful story of a World War II era B-17 bomber that crashed at Saint Marks on a summer day in 1944. The plane went down carrying a crew of ten men…only one airman survived. Long forgotten, the wreckage was rediscovered in 2011. A historic marker is now in place so the story of these men won't be forgotten again.
Transcript:
Reporter Mike Plummer: When I think of the St. Marks National Wildlife Refuge, I usually think of unspoiled nature and its signature lighthouse. But in 2011, a crew from the U.S. Fish and Wildlife Service found something else on the refuge that had almost been forgotten.
Greg Titus: So we were prescribed burning in what we call the Saint Marks unit of the wildlife refuge, which is the eastern part of the refuge. Uhm, we were, when we burn we lineup several people in a row and we make passes across the unit as a group. And as we coming through an area very similar to this, saw something off in the distance leaning up against a tree. One of the guys said, oh it looks like maybe a hunting blind or something that someone had left out there. And as we approached closer, we found that it was a piece of the wing, a wingtip from an airplane. We had no idea what it was from.
Reporter: What they had found was the remnants of a World War 2 era B-17 Bomber.
Greg: One of the prescribed fire crew members here, Travis Pollard, his grandfather was a crew member on a B-17 in World War Two. So he took an immediate interest in it. He really did a lot of research on it, on his own.
Travis Pollard: we saw markings on some of that debris and one of the markings was a faded star and shield symbol related to the U.S. Army Air Corps. And from that it suggested that it was a military aircraft. And from there we could do a…we had a solid foundation to start an investigation on that. We were able to find the actual crash report that was done back in 1944. And from there we were able to put all the pieces together and we were a hundred percent confident that it was the B-17 crash that occurred back on July 30, 1944, from a plane out of Avon Park…air force base.
Reporter: The Flying Fortress was from the 88th Bombardment Group, of 3rd Bomber Command. It was on a training mission with a crew of ten men. It left Avon Park with 12 other B-17's, flying over to the Atlantic, up the east coast towards Jacksonville, turning to pass above Waycross, Georgia…then heading south over Tallahassee, and finally back home to Avon Park. They ran into trouble trying to find their way through a violent thunderstorm. This bomber broke apart at an altitude of about 23,000 feet, at around 3pm on July 30, 1944, over the St. Marks Refuge.
Travis: It broke up fairly high up in the air and it was…I believe it was just due to the strong winds and turbulence in the thunderstorm that the plane flew through.
Greg: The terrain was very flat, but very wet. It's basically in a…a sawgrass swamp, sawgrass and cypress with a few pine trees mixed in it. So, very remote, probably the closed road was probably half a mile.
Reporter: According to reports, the crash was witnessed by a local man named Abel Strickland.
Travis: Abel Strickland, he was on his horse which I believe was named Daisy. He had his hunting dogs with him. And he said he saw the plane crash and he saw a man on a parachute coming down from the wreckage and of course he wanted to go help. So he…him, his horse, and his dogs went out to the site and they found Marvin Magee…Private Marvin Magee, they found him walking down one of the country dirt roads in that area. And Abel was able to give him a ride to the Saint Marks Lighthouse. At the time, the Saint Marks Lighthouse, the coastguard, the had a presence there at the lighthouse. And so he was able to tie in with the coastguard and they called down the crash rescue team from Dale Mabry Airfield, which is now Tallahassee Community College on that site. They came down, they did the investigation on the crash. They recovered the bodies and they salvaged what the could from the wreck.
Reporter: Private Marvin Magee was the sole survivor. Nine of his crewmates died. Now this story was no secret, but like many local stories, it was soon forgotten to the march of time…until these wildland fire fighters stumbled across some debris in the middle of nowhere… And recently, they've added a marker at the St. Marks Refuge to commemorate this vignette of local history.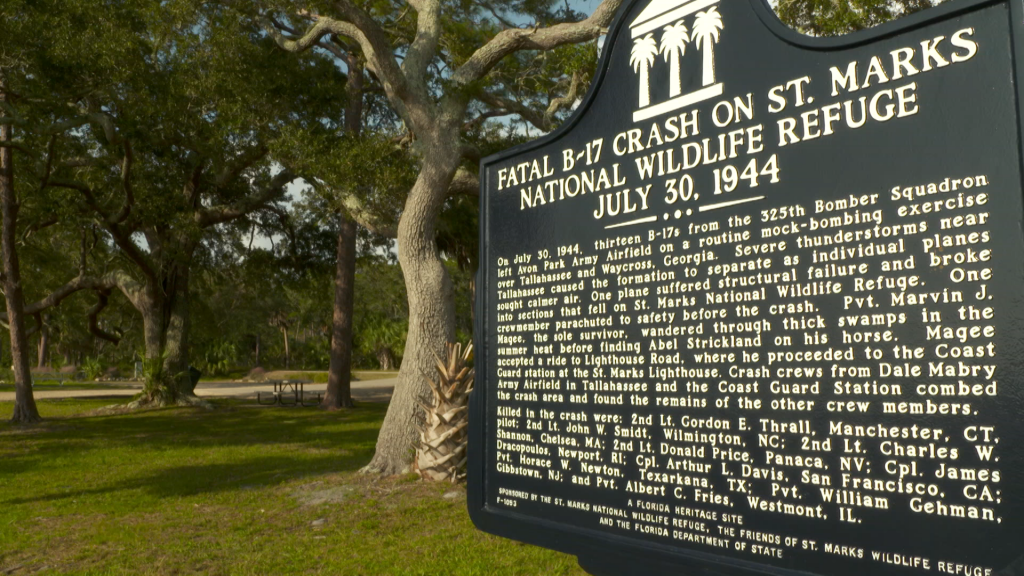 Travis: We chose this site, Picnic Pond, it's not really close to the wreckage. We didn't want to put it too close to the wreckage because you know, we didn't want people looting the area or stealing stuff. We wanted to leave the wreckage intact. But we put it in this area because it's a very frequented area. Everybody who comes down here to the lighthouse or the boatramp, they drive by this area and they'll stop and they'll read it. And that's important because you know, the gentlemen who perished in this plane crash, their story…they were forgotten over the years. And I think it's important to bring the story back to life and to give it new meaning.
Reporter: So the next time you go to the St. Marks Wildlife Refuge, stop by the historic marker at Picnic Pond and reflect on the harrowing experience of Private Marvin Magee wandering through that wild place…and the terrible fate of nine other young servicemen who fell out of the sky one July afternoon in 1944.
For WFSU Public Media, I'm Mike Plummer.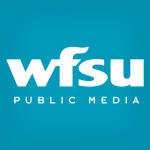 Mike Plummer is a content producer and editor for television at WFSU Public Media. He spent 25 years in commercial television as an art director, commercial director, promotion manager, station manager and creative services director before coming to WFSU in 2008. Mike likes to find the "unusual" or "out of the ordinary" stories in our Local Routes. He says the best part of his job is getting to know people he would otherwise probably not get a chance to meet. Mike is widowed, has two terriers named Truman and Dexter, and is constantly at war with the vines growing in his backyard.