Doing the right thing!
We hear a lot about "helping businesses" and "creating jobs", but do you know what I don't hear very often? Ready, here it is: "doing the right thing". In our quest for prosperity we seem to have ignored, or worse accepted, the damage left in the wake of progress. Well, I have found the intersection of "business" and "doing the right thing!" And I am happy to report that it at an oyster farm in Spring Creek, Florida.
Meet the Houck's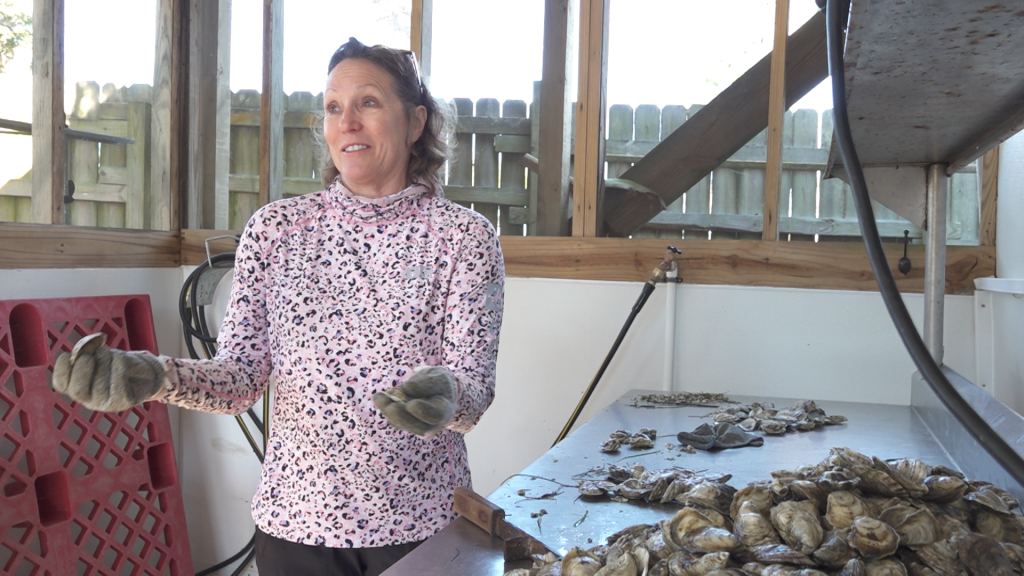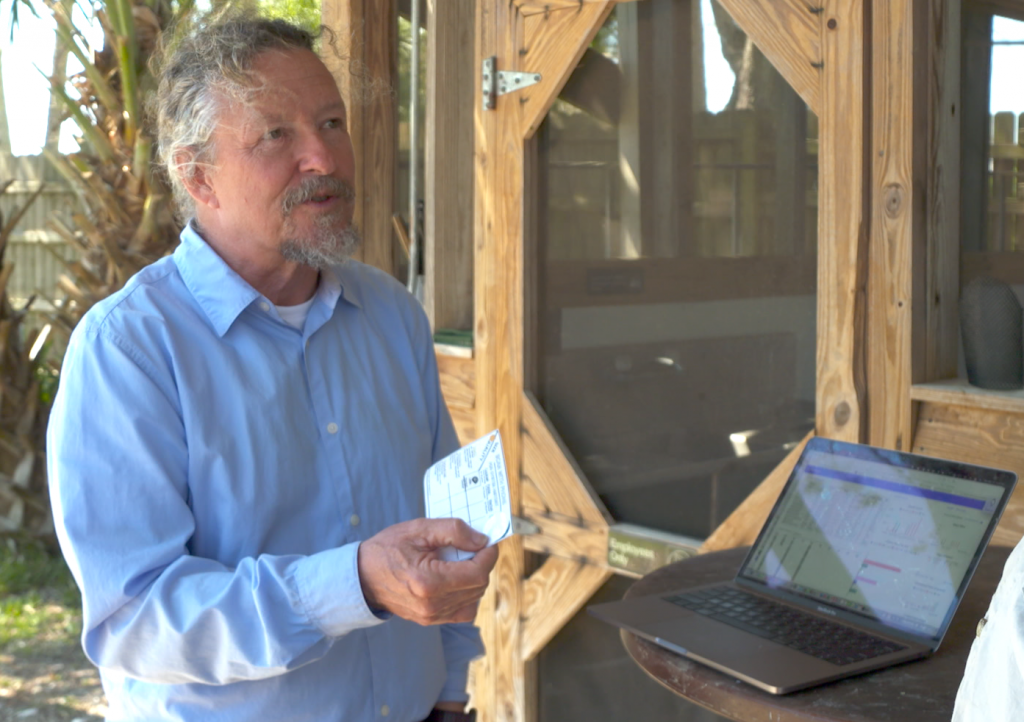 Dewey and Jody Houck retired and moved to Florida to be near children and grand-children. And with them they brought extensive business experience, a willingness to explore new ideas, and a desire to "do the right thing". Jody was always interested in aquaculture, so they studied and explored oyster farming and then they wrote a business plan. "We weren't going to start this until we had a business plan", says Jody. They leased water column from the state and started oyster farming. This was the beginning of Cypress Point Oysters.
The Old Spring Creek Restaurant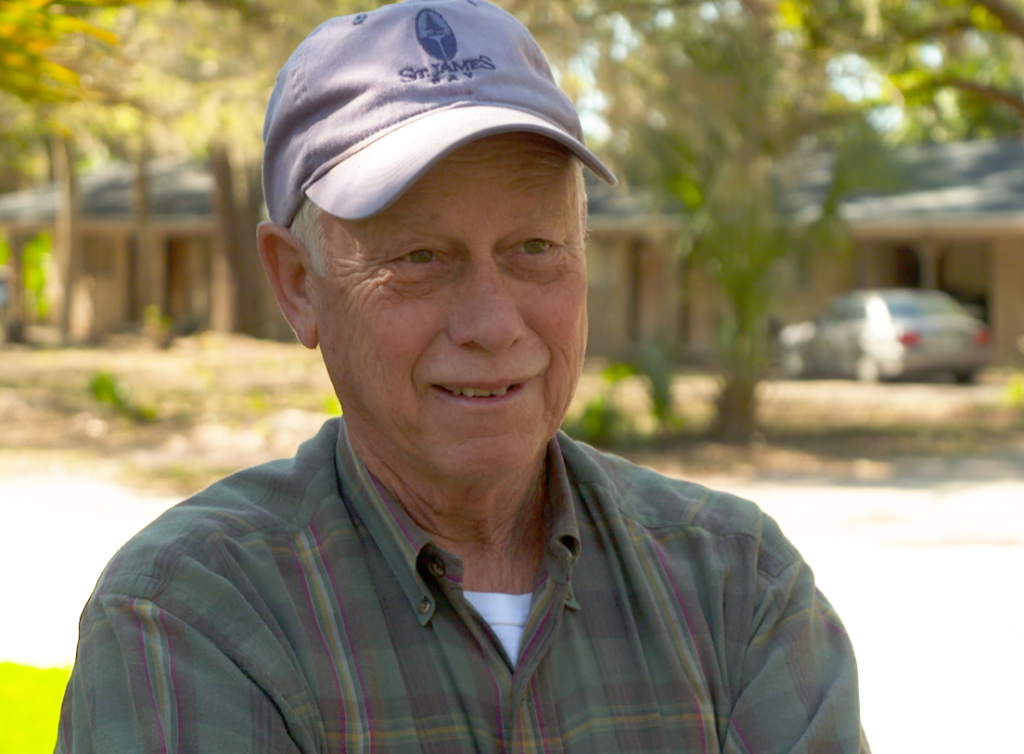 Many of you may remember the old Spring Creek Restaurant owned and operated by Leo Lovel and his family. It was well known for its fresh, locally sourced seafood. The restaurant closed after hurricane Michael poured four feet of seawater through it. And that wasn't the first time the business had been flooded by a hurricane, but Leo was no longer willing to deal with the mess.
Serendipity!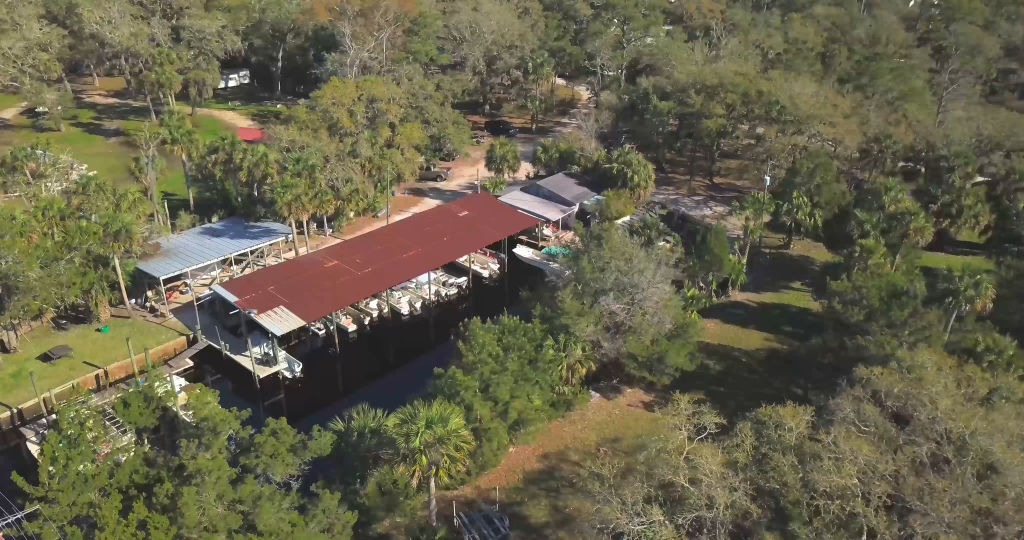 Dewey and Jody had been towing their oyster boat in and out of the water, daily. Plus, they had been doing all their oyster processing work out on the water. The situation was less than ideal. Then one day they met Leo Lovel! Now, besides the old restaurant, Leo's property had a 12-room motel, and most importantly, a small marina that conveniently had commercial refrigeration onsite. Serendipity! The Lovel's and the Houck's struck a deal and the old Spring Creek property had new owners and a new oyster farming operation, Cypress Point Oysters. Jody and Dewey quickly found that having dock space, onsite refrigeration, and power made the oyster farming much easier and efficient.
Oyster Farming Methods
Jody and Dewey both come from corporate backgrounds that gives them an understanding of markets, processes, and how to use data. That knowledge is incorporated into their methods. For instance, they use automated RFID (Radio Frequency Identification) to track all their oysters from seed to delivery, and their clients have access to the information upon delivery. The operation is well organized and labor is used efficiently in order to keep injuries to a minimum. What Jody refers to as Human Factors and Systems Engineering, "The less you can touch something and move something around, the more efficient you become and the better protection you do for your employees."
Oyster Markets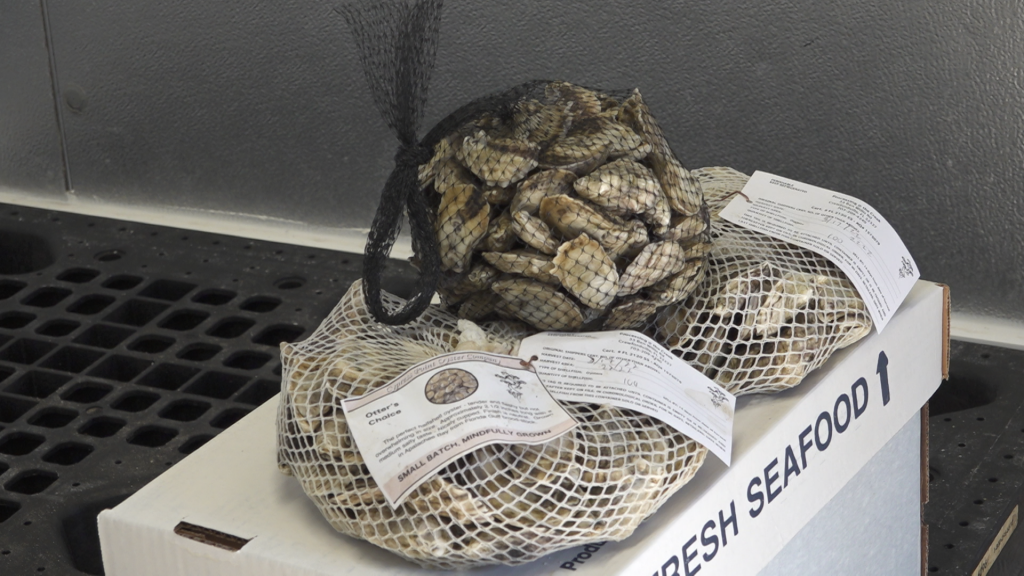 They sell their oysters directly to premium restaurants throughout the southeast. Dewey says, "These oysters are grown strictly for the half-shell market and strictly for restaurants." And they're raised to be consistently sized and shaped, because it's what their clients prize most. "Our objective in cultivating oysters is to have as deep a cup and as much meat in that cup as possible. A perfect oyster for us is a ratio of 3-2-1, the height of the oyster being three, the width being two, and the depth being one." That ratio is achieved by tumbling the oysters periodically, as they grow.
Growing an Oyster Farming Industry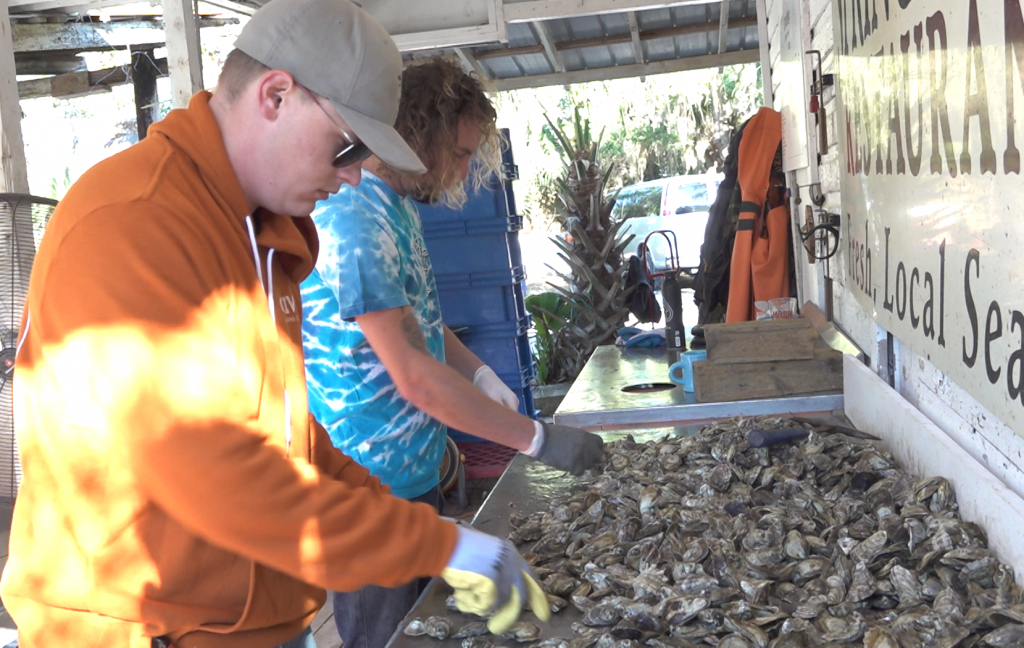 They pay employees a good salary…not hourly, not part-time, and not seasonally, so their employees always have a steady income and a steady job. They also make their methods available to other local oyster farmers because their goal is to grow a new and lasting oyster industry in Spring Creek…something more important to the area than just their own business.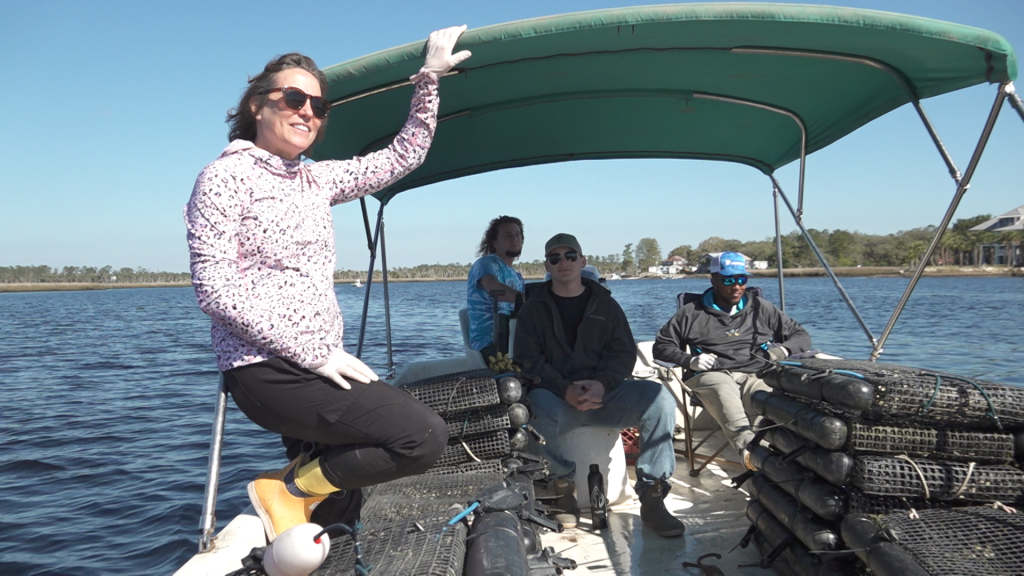 Helping Other Oyster Farmers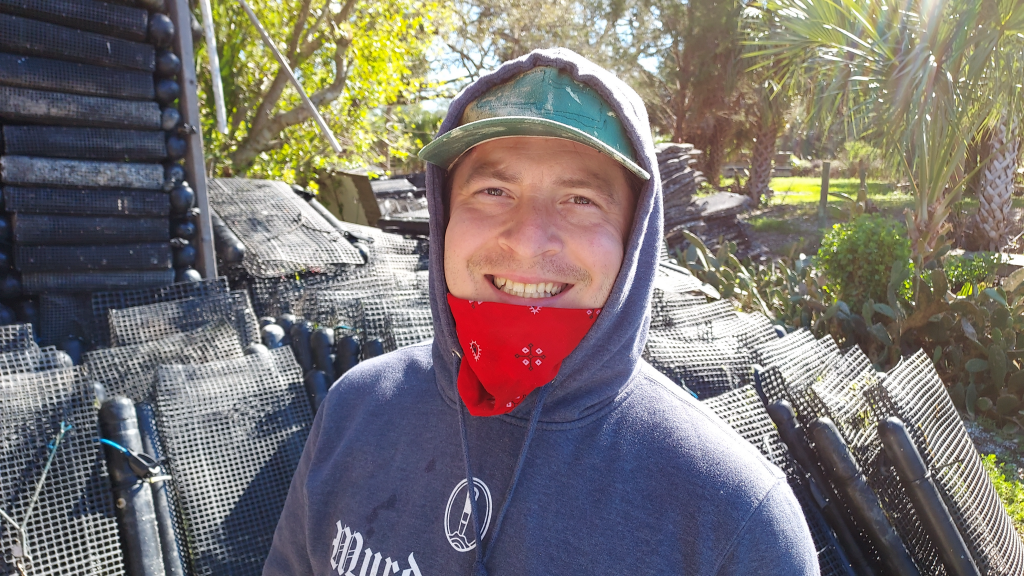 On the day we visited Cypress Point Oysters, there were two other oyster farms on site, processing oysters. Cainnon Gregg from Pelican Oyster Company and Bryan Rackley, Matt Christison, and Jesse Smith from Shiny Dimes Oysters. The Houck's allow these oyster farmers to use their facility because it's good for the fledgling industry, and good for the bay. In return, these other farmers help out Jody and Dewey and the Cypress Point team when needed. This an example of how Jody and Dewey are trying to grow the local oyster farming industry. They're just trying to do the right thing.
Mike Plummer is a content producer and editor for television at WFSU Public Media. He spent 25 years in commercial television as an art director, commercial director, promotion manager, station manager and creative services director before coming to WFSU in 2008. Mike likes to find the "unusual" or "out of the ordinary" stories in our Local Routes. He says the best part of his job is getting to know people he would otherwise probably not get a chance to meet. Mike is widowed, has two terriers named Truman and Dexter, and is constantly at war with the vines growing in his backyard.