One of our team members spent a week as a camp leader with Gainesville's Girls Rock Camp – turning girls into rockstars! Read more about Brianna's experience here.
During the second week of July, I had the amazing, entertaining, and exhausting experience of volunteering with Gainesville Girls Rock Camp.
This empowering program is geared towards girls between the ages of 9 and 12 years old, and in one week, the campers learn to play instruments, form a band, and write a song. Then, at the end of the week, they perform their song on a big stage in front of cheering and supportive family and friends. Also during the course of this week, the girls participate in workshops about feminism, social justice, music, and other exciting activities. This year, the workshops included coding, yoga, songwriting, music video meanings, and a farm to table demo with Brave Harvest.
The day usually went like this: the campers and volunteers participated in a warm-up activity (karaoke or a game). Then, the campers go to workshops, followed by instrument instruction, where they were grouped together based on the instrument they were assigned for their band, and they worked with each other and an experienced volunteer to hone their skills. Next was lunch, which we would all eat while watching a local female-centered band or artist perform, followed by another workshop and band practice, and then the whole camp got together to sing the camp song, which each of the girls helped to write. As you can imagine, every day was jam-packed, but the girls maintained their energy and enthusiasm through it all.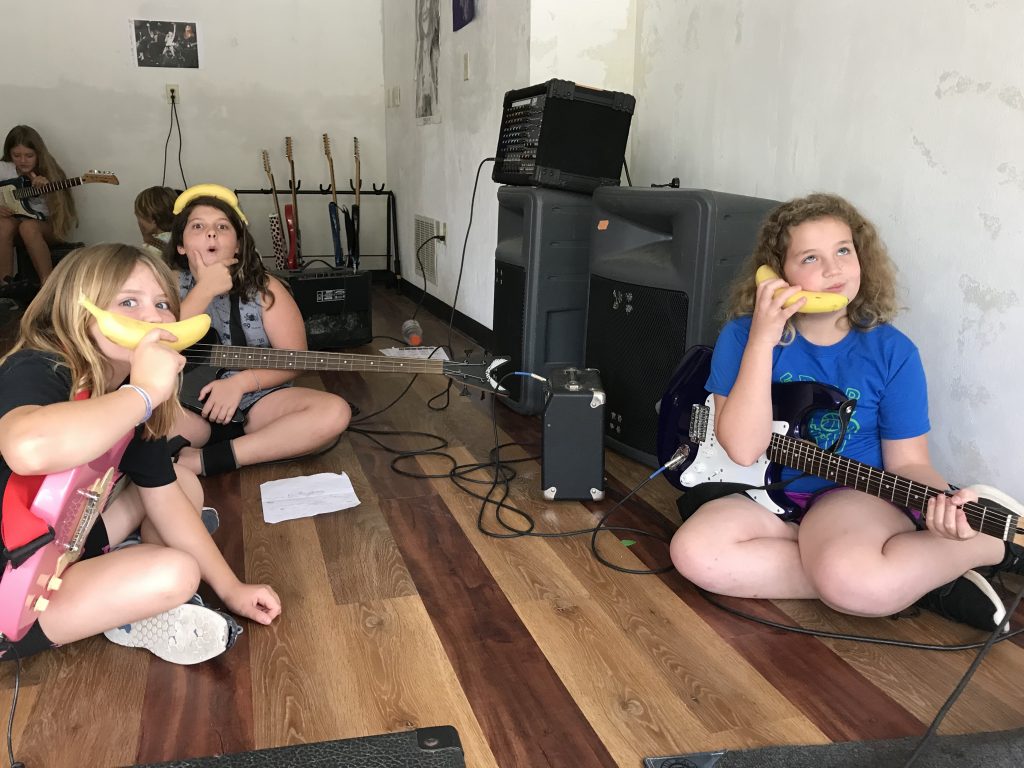 My role in the camp was to be a band leader and a bass instructor. I worked with one other volunteer for one or two hours a day, teaching the five bassists in the camp all about the notes on the bass and how to shred on the strings. We also talked about working together with the other instruments in the band, and the role and importance that bass plays as a rhythm and time keeper.
As band leader, I was a coach, cheerleader, and source of guidance for five extremely hyper nine year olds trying to write a song. On day one, I realized it was crucial to make sure that these girls formed a strong bond, because working together and hearing everyone's ideas is so important when making music as a group. I asked them a series of ice-breaker questions and tried to find common interests between them, while also trying to create a supportive and positive environment. The girls ended up making an amazing team. They all realized they loved bananas, and decided to call themselves, "The Banana Band". They even brought a banana from home to be their mascot, and they put it on a guitar stand in front of the drum set every time they played. In the spirit of bananas and their mutual love of cats, they decided to write a song called "The Banana Rock", which was about a banana cat wearing a banana hat. The girls worked hard with little to no arguing, they were able to talk about their ideas and every one of them got to share and contribute to the song. They worked so fluidly and quickly that they also had plenty of time for dance parties with the pre-programmed keyboard songs and to play games like "Statues in the Garden" or do gymnastics in between run-throughs of their song.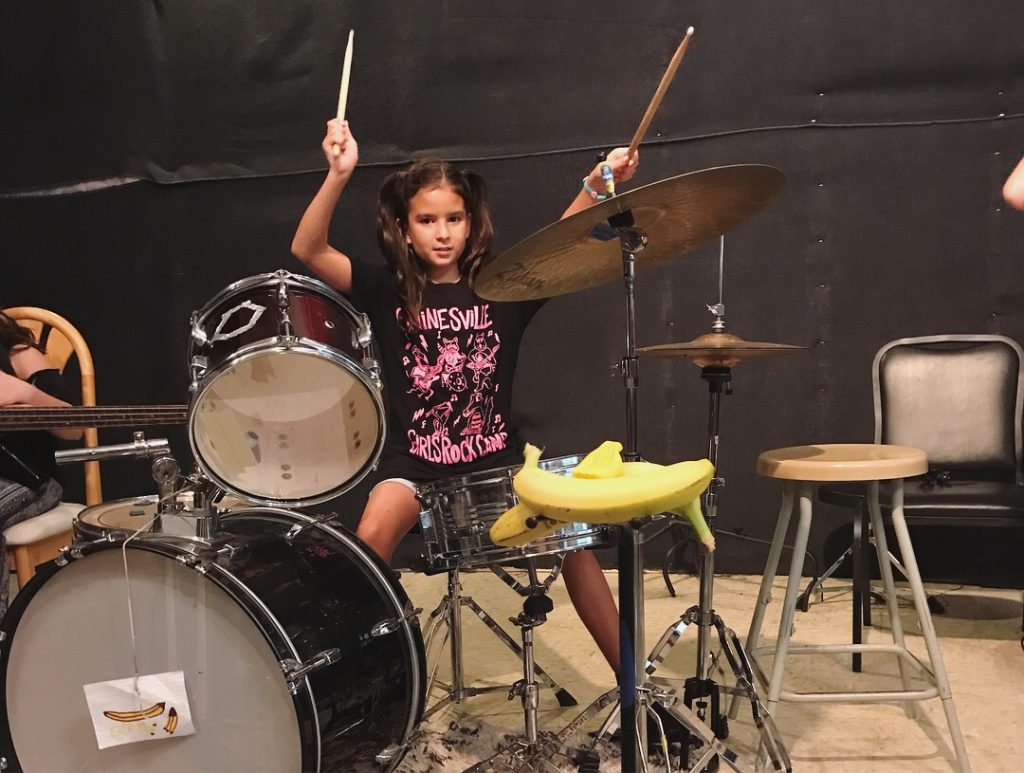 On Saturday at the showcase, they played beautifully, and their song was followed by thunderous applause, cheers, and chants about loving bananas. One of the camper's moms even made banana earrings for all of the band members! The four other bands at the camp-Space Girlz, Empire State of Mind, the Funky French Fries, and 404 Band Not Found, also worked incredibly hard and were able to create and play amazing and original music at the showcase. I was so proud!
If you know anyone in Gainesville who would like to participate in Girls Rock Camp, either as a volunteer or as a camper, please email gainesvillegirlsrockcamp@gmail.com.
Brianna Peterson, Education & Engagement Specialist