Halloween is around the corner and many young families are celebrating by singing fun holiday-themed songs like 5 Little Pumpkins Sitting On A Gate, the Itsy-Bitsy Spider, or Dem Bones. Some are counting up their bones with a favorite vampire-like Sesame Street Muppet. And soon neighborhoods will be canvased for candy rewards to be sorted and divided.
Believe it or not, these Halloween activities introduce a perfect opportunity for parents and caregivers to incorporate some sneaky computational skill-building.
Computational thinking is all around us. As you've probably heard, computers use numbers to perform computational tasks. Computers don't speak English or other languages like human beings do, but they are able to make meaning out of data when it is encoded into binary code.
Binary is a base-two number system [adults: learn more about binary]. 'Base-two' means there are only two digits—1 and 0—which correspond to the on and off states your computer can understand.
For our very little ones though, binary code can be a bit advanced. (Although, you can start teaching the concepts of binary math and computer science beginning in elementary school.) The most important computational skills you can practice now with your kids under five are simpler tasks such as ordering, to help them with problem-solving later.
Teaching children to take the time to process larger problems is the best trick—and treat—that will serve them well in all sorts of situations! In fact, computational thinking, or independent problem-solving, is pretty much a superpower. Even our youngest children are ready to practice.
In general, there are four computational thinking foundational ideas. They are decomposition, pattern recognition, abstraction, and algorithms. In this post, we will focus on the first of the four, decomposition. What better way to bring in Halloween than to talk about decomposition?! Whether it's yucky rotting stuff or more complex math and computer coding problems, decomposition is all about breaking something down into smaller parts.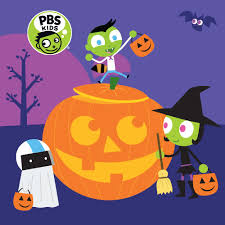 Computational Thinking in Real Life
Here are some great ways to help your children visualize the process of decomposition, or breaking complex problems down into smaller parts.
Go on a nature walk, flip over a rotting log and observe how the log is being taken apart by insects and other decomposers. Discuss with your child what problems the insects are solving by carrying the log piece by piece.
Did you carve a pumpkin to make a jack-o-lantern? Discuss with your child the steps one must take to create the best jack-o-lantern—from planning the face, to cleaning the pumpkin's insides, to finally placing your spooky creation in the perfect location.
Did you eat a lot of Halloween candy? What happened to it in your mouth? Did your teeth crunch it up into smaller pieces that melted down into your throat? Why did this happen!? Yes, humans are decomposers too!
Breaking things down into smaller pieces happens all around us. Taking time to share and explain these processes is a terrific way to help kids observe the very natural way things come apart and how they can translate that skill into breaking large problems down into smaller pieces to help solve them easier.
Reverse Decomposition: Halloween Recipe
It's time to get creative! Demonstrate the reverse decomposition process by putting together a delicious PBS Halloween recipe from various ingredients.
Let's use the Salted Pumpkin Caramels recipe to demonstrate, in a tasty way, the concept at home. You will need the following pieces/ingredients to make this recipe.
Ingredients
3/4 cup pumpkin seeds (pepitas)
1 1/2 cup heavy cream (35% or whipping cream)
3/4 cup pumpkin puree
1 1/2 tsp. pumpkin pie spice or
1/2 tsp. cinnamon
1/4 tsp. ginger
1/4 tsp. nutmeg
1/8 tsp. each allspice
cloves
2 cups white cane sugar
1 cup maple syrup
1/4 cup water
4 tablespoons butter
1 tsp. lemon juice
1 tsp. fleur de sel or kosher salt 
Baking together is a perfect way to practice those decomposition skills and how recipes are broken down into smaller parts to make a final (and hopefully delicious) product. After all, a little bit of logic, a pinch of counting, and a spoonful of sequential actions is the perfect way to bring in the spirit of Halloween!
For more Halloween fun check out:
The Halloween Collection on Florida PBS Learning Media,
PBS KIDS Halloween videos on the PBS KIDS Video app, and
PBS KIDS Parents for all sorts of recipes, crafts, activities, games, and more!