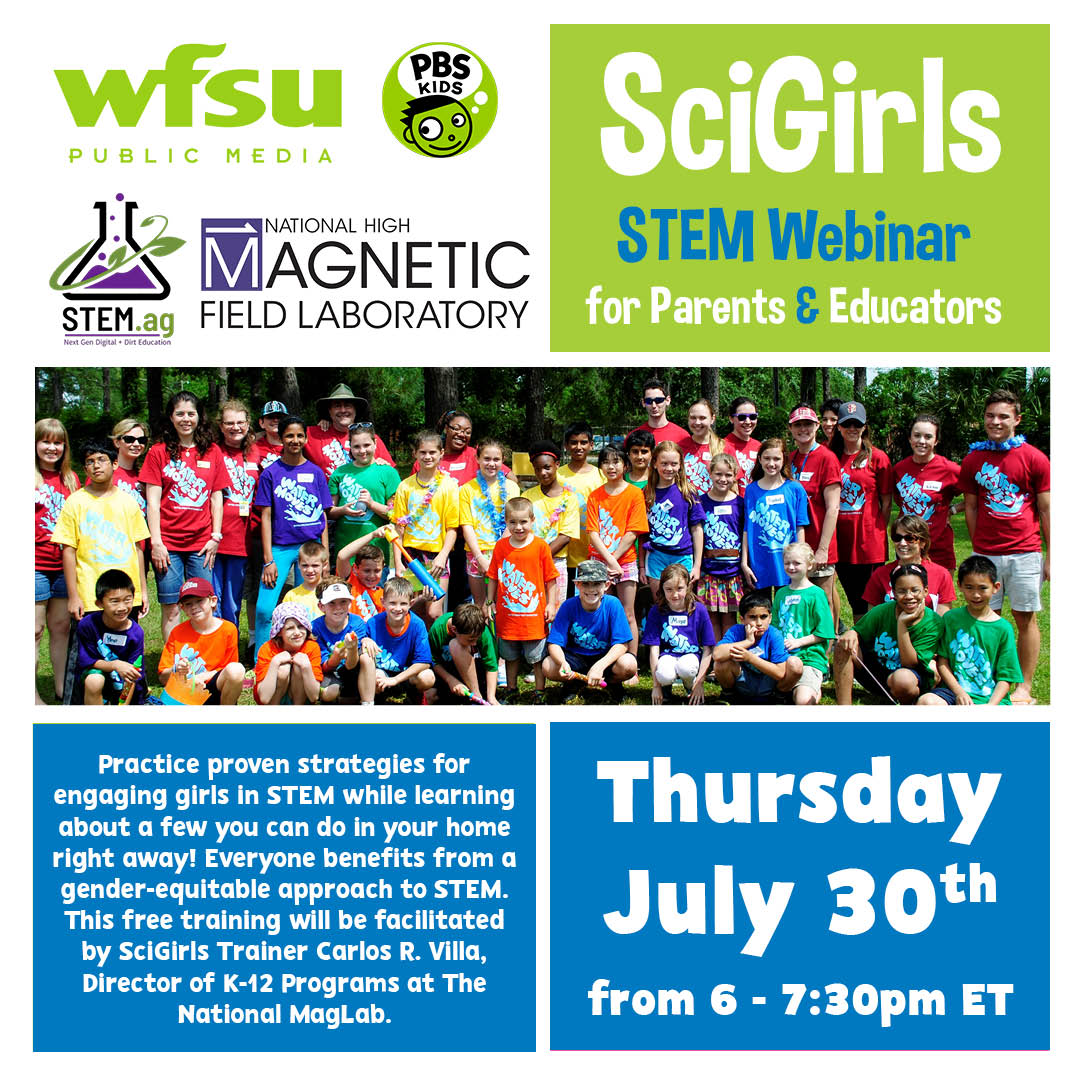 SciGirls Webinar Workshop for Educators and Parents
Educators and parents are invited to participate in a Professional Development Training hosted by the National MagLab and WFSU Public Media. We welcome you to practice proven strategies for engaging girls in STEM while learning about a few you can do in your home right away! Everyone benefits from a gender-equitable approach to STEM. This free training will be facilitated by SciGirls Trainer Carlos R. Villa, Director of K-12 Programs at The National MagLab, with an activity provided by Michele Madison, of STEM.ag.
Participants attending this workshop will:
• Learn the latest research for exciting and engaging girls (and boys) in STEM
• Leave with curriculum links that put a creative twist on teaching STEM
• Learn how to plan activities to engage kids in STEM using proven strategies
• Discover additional online resources that enhance teaching and learning experiences for all kids.
---
What is SciGirls?
SciGirls is an Emmy-award winning PBS KIDS television series and website dedicated to changing the way millions of girls think about STEM (science, technology, engineering and math).
What is the National MagLab?
The only facility of its kind in the United States, the National High Magnetic Field Laboratory (MagLab) is the largest and highest-powered magnet laboratory in the world. Every year, more than a thousand scientists from dozens of countries come to use our unique magnets with the support of highly experienced staff scientists and technicians.
What is WFSU Public Media?
WFSU Public Media provides quality public broadcasting services to the North Florida and South Georgia area. WFSU Public Media is both an NPR and a PBS member station and our FCC licenses are held by Florida State University. WFSU Public Media also provides community outreach and educational services. Examples include the American Graduate Project and children's projects associated with PBS KIDS.