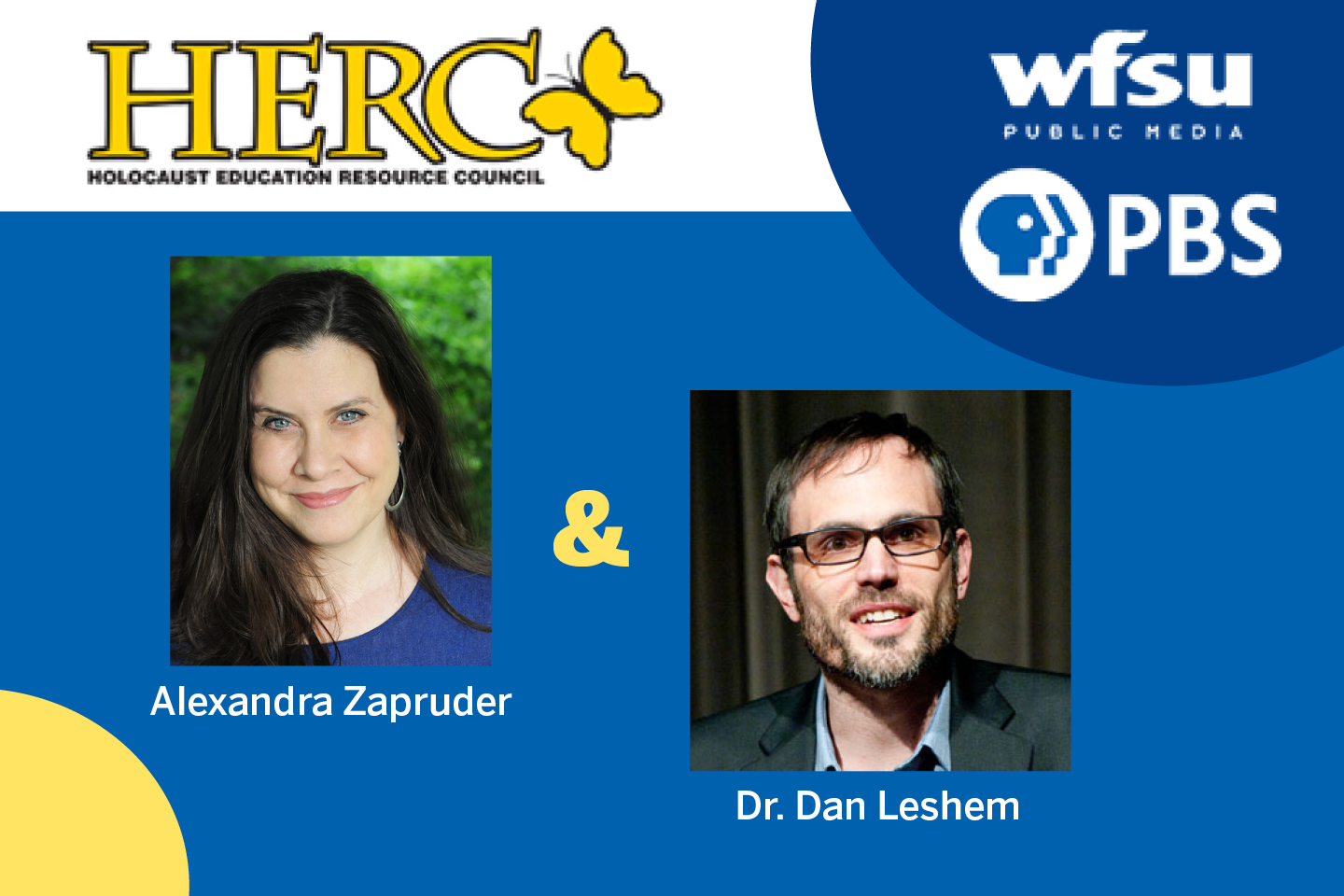 Teaching Holocaust with Film & Literature
Join the Holocaust Education Resource Council (HERC) and WFSU Public Media on ZOOM for an engaging professional development session to gain teaching tools for Holocaust education in your classroom.
10:00am | Welcome and Introductions
Salvaged Pages: Young Writers' Diaries of the Holocaust presented by Alexandra Zapruder
11:15am | WFSU Dives into PBS LearningMedia
11:30am | 1:30pm – Break
1:30pm | Holocaust Education Week Resources Guide – Dan Leshem, PhD
2:30pm | Survivor Testimonies – Dan Leshem, PhD
3:00pm | Conclude and Thank you
Resources registered teachers should review in advance:
The book Salvaged Pages
An opportunity to view the film I'm Still Here
Facilitator: Dan Leshem, PhD – devoted his career to bringing communities together around the exploration of the lessons and legacies of Jewish history, culture, religion, and ethics. He believes that every college student can benefit from engagement, support, and learning with other Jews in a supportive and dynamic environment. He is committed to providing a Jewish home away from home to all 4,000 FSU Jews – undergrads and graduate students, staff and faculty – and making Hillel @ FSU a hub of Jewish activity in Tallahassee.
Guest Speaker: Alexandra Zapruder began her career as a member of the founding staff of the United States Holocaust Memorial Museum in Washington, D.C. A graduate of Smith College, she served on the curatorial team for the museum's exhibition for young visitors, Remember the Children, Daniel's Story. She earned her Ed.M. in Education at Harvard University in 1995.
In 2002, Alexandra completed her first book, Salvaged Pages: Young Writers' Diaries of the Holocaust, which was published by Yale University Press and won the National Jewish Book Award in the Holocaust category. It has since been published in Dutch and Italian. She wrote and co-produced I'm Still Here, a documentary film for young audiences based on her book, which aired on MTV in May 2005 and was nominated for two Emmy awards. In the fall of 2015, she completed a second paperback edition and a multimedia edition of Salvaged Pages and, in conjunction with Facing History and Ourselves, published related educational materials designed for middle and high school teachers.