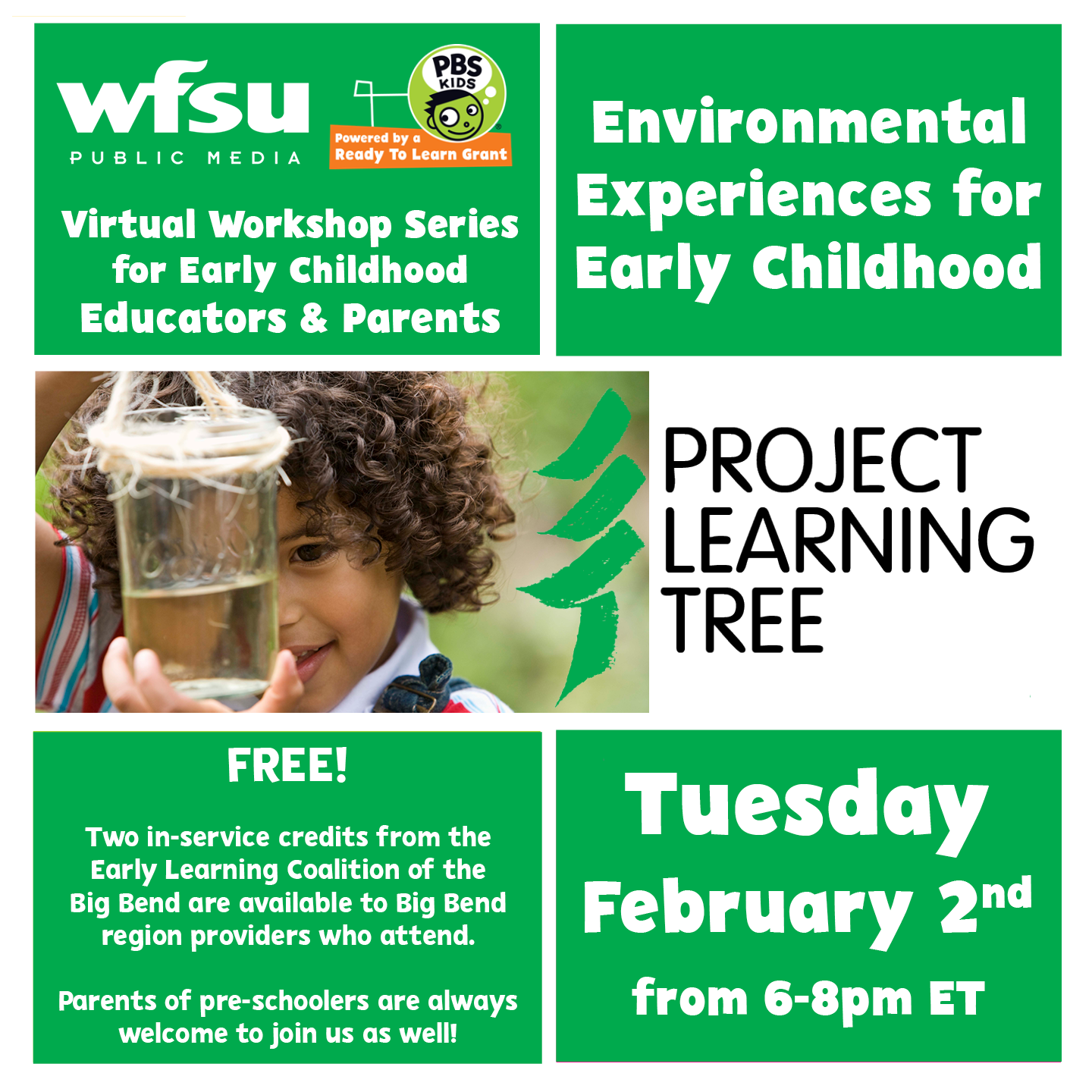 Environmental Experiences for Early Childhood: Virtual Workshop for Educators and Parents
Join WFSU Public Media's Education & Engagement team and special guests, Project Learning Tree (PLT) for an interactive virtual workshop. Participate in a 2-hour webinar to discover exciting teaching ideas for integrating nature-based exploration, art, literature, math, music, movement, and outdoor play into early childhood education programs (3 – 6-year olds), all while building literacy skills and environmental appreciation.
All participants will receive an electronic and hard copy of PLT's Environmental Experiences for Early Childhood guide which contains over 130 experiences that engage children in outdoor play and exploration. The guide is correlated to the Florida Early Learning and Developmental Standards for ages 3-4 years and 4 years-Kindergarten.
Credits Available:
Two in-service hours are available for early educators who are located in the Big Bend region of Florida and attend the webinar live. Certificates of Completion also available for providers outside of the Early Learning Coalition of the Big Bend's service area.
Additionally, CEUs are also available AT NO COST for interested participants. Participants who participate in the webinar live, and continue on to complete the online course and training action plan on their own time will receive CEUs. CEUs are provided by the Florida Association for the Education of Young Children (FLAEYC). For More information about the CEUs, click HERE.
About Our Partners:
Project Learning Tree (PLT) is an award-winning environmental education initiative designed for formal and non-formal educators, parents, and community leaders working with youth from preschool through grade 12. PLT helps develop students' awareness, knowledge, and appreciation of the environment; build their skills to make informed decisions; and encourage them to take responsibility for sustaining the natural world. Learn more at plt.org.