Thanks in part to the Ready To Learn initiative, WFSU Public Media has partnered up with Bright by Text to bring the program to you! Whether you're a parent, grandparent, aunt or uncle, neighbor, or babysitter, Bright by Text can make caring for a little one easier!

WFSU Ready to Learn Education partners, please jump ahead to fill out the Bright By Text submission form. Please Note: All events and messages will be considered, but only a limited number will be approved.
Are you…
curious about local resources for your child(ren)?
wondering about events in the Big Bend region appropriate for your kid(s)?
looking to make sure your child(ren) is / are reaching important early milestones?
interested in receiving free learning games and easy-to-understand tips texted directly to you?
Did you know that in the early years a child's brain is developing at a faster rate than it will at any other point in their life? The interactions that a child has with adult caregivers at this stage of their life set the foundation on which all later learning, behavior, and health depends.
Bright by Text provides quality information and trusted resources to parents and caregivers of children prenatal to five. Available in English and Spanish, the messages are comprised of research-based content from Bright by Three and partners such as PBS, Vroom, and Sesame Street.
One of the things that we really like about is Bright by Text offers information geared to the age of your child or in our case based on the due date for our son. It's great for a first time parent like myself, there's a lot of information out there and it's easy to be nervous as a prospective parent. Sorting through all of this information, what's a reliable source and what's not, is really difficult. Bright by Text is really nice because it allows us to easily digest information that has been vetted by a reliable organization.
— BBT parent Westminster, CO
Bright by Text helps parents and caregivers make the most out of these interactions by illustrating fun and easy activities, providing positive parenting tips and resources, tips for aiding a child's physical development, and much more. The program is proven to build nurturing caregiver-child relationships, and positively impact a child's healthy development and school readiness.
To Get Started
Simply text the number below, answer a few simple registration questions, and you'll begin receiving research-backed messages straight to your phone from trusted resources.
Just text WFSU to 274448 to get started!*
*standard messaging rates apply
Becoming a Bright by Text Partner
WFSU Public Media seeks to connect families with valuable and often underutilized community services. With the help of Bright By Text and many diverse partners, we're able to coordinate localized messages targeted to each family's zip code.
Interested in partnering with us to spread the word about any of the following areas (see image)? Please fill out the form below.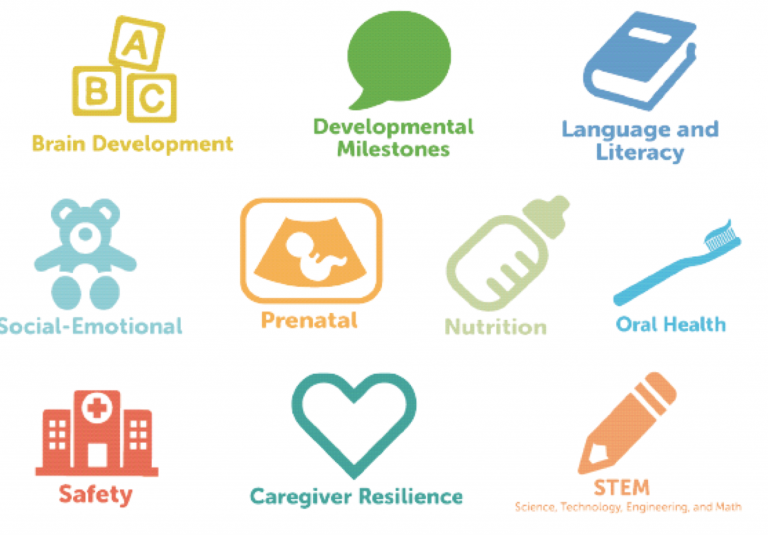 Bright by Text guides parents to understand their child's needs for success during the most pivotal stages of development with bite-sized tips and resources, plus information about age-appropriate events and activities.
Join our efforts to connect more parents to more of the information they need! Complete this form to submit a text message, and we'll let you know if and when it's been checked and scheduled.
WFSU Bright by Text Event Submission Form
NOTE: We need a minimum of two weeks lead time to schedule a text.