Who-oo-ooo loves Halloween?
WFSU Public Media's Education & Engagement team does! Since the first Owl-o-ween celebration at the WFSU Public Media studio in 2018, our annual event about all things spooky fun has continued to grow new legs – almost like a creepy creature might!
2018
For the first year, we invited families to the station to watch a Wild Kratts Creepy Creatures special, learn about some of the local creatures in our own backyards and even meet a few of them, and take part in a costume contest. We had prizes for Best PBS KIDS Character, Creepiest Critter, Best Character from a Book, and more! Check out a few photos of the participants below – can you guess the PBS KIDS characters?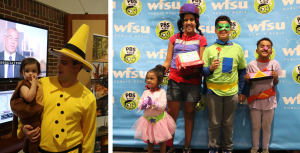 2019
We took over the Fred George Greenway Museum to host this year's event, which featured tons of community partners! 200 friends came out to craft and enjoy tasty treats with us. We gave families books, screened PBS KIDS Halloween episodes, created fun Wild Kratts creature masks, and enjoyed scavenger hunts and crafts provided by the following neighbors:
2020
COVID-19 caused us to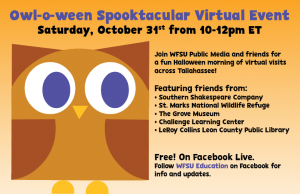 WFSU Public Media and various community partners for a fun morning of virtual visits across Tallahassee, featuring Halloween crafts, spooky (and age-appropriate) book readings, talk of creepy critters and of course a dose of quality, educational PBS KIDS media.
Over 600 unique users tuned in to our Spooktacular Virtual Event, enjoying seeing familiar faces from partner organizations like the Southern Shakespeare Company, St. Marks Wildlife Refuge, The Grove Museum, the Challenger Learning Center, and the LeRoy Collins Leon County Public Library System!