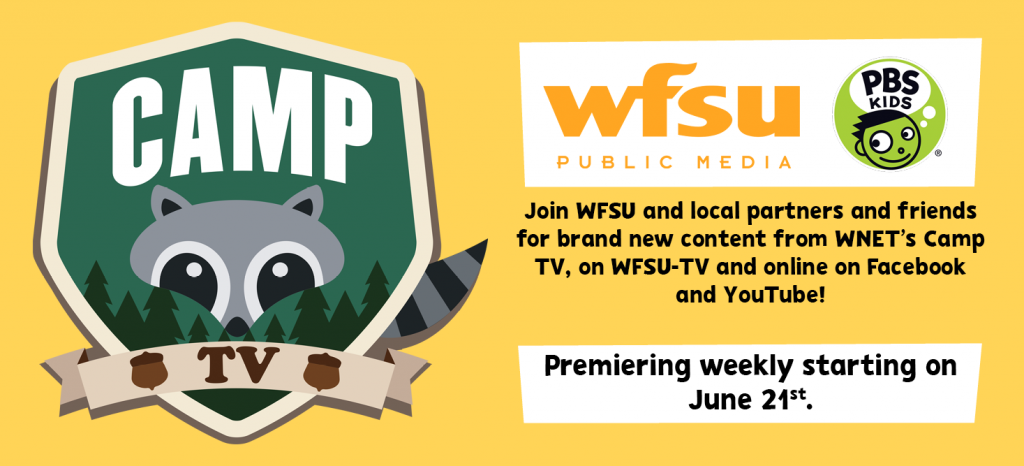 Thanks to grant funding from WNET, WFSU Public Media will be highlighting amazing partner organizations from across the Tallahassee area in our own series of Camp TV videos! Throughout the summer break, you'll be able to catch the following superstar community partners premiering on WFSU-TV and on Facebook and YouTube:
In conjunction with this exciting new televised programming, WFSU Public Media is also introducing a brand new camp for the 2021 Summer break, PBS Camp TV! This virtual camp – sponsored by Leon County Schools – will bring a day-camp experience to your living room with incredible local partner spotlights, engaging hands-on activities, and standards-aligned educational content that comes together seamlessly to bring fun and learning to your living room!
About Camp TV
CAMP TV – a day camp experience in your living room! An enthusiastic head counselor, played by Zachary Noah Piser, guides "campers" as they learn through play. Content partners include the New York Public Library, the New Victory Theater, Lincoln Center for the Performing Arts, Bedtime Math, Wildlife Conservation Society, the Memphis Zoo, and more.
Related Links
PBS CAMP TV – The homepage for archived episodes of CAMP TV!
Camp TV on PBS LearningMedia – Explore the collection on PBS LearningMedia, PBS' one-stop resource for all things educational media. Here you'll find standards-aligned curriculum and lesson plans, activities and games to have fun with at home or in the classroom – all free for you and your kiddo or classroom to use!