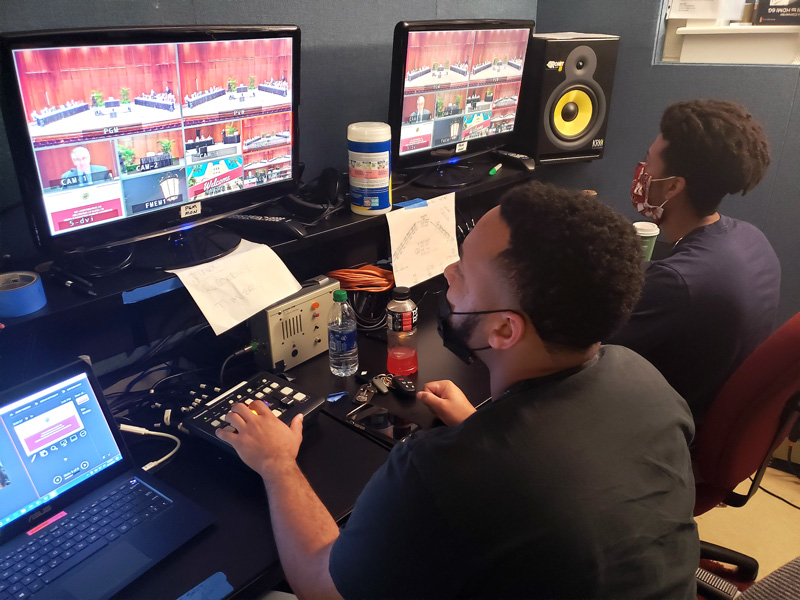 4fsu on Television
Mission
The mission of 4fsu is to provide the Florida State University and surrounding community with programming intended to heighten public awareness of local and University affairs, while serving as a learning laboratory for students and others interested in television production, programming, and technology.
Origins
4fsu began as FSU Cable Channel 47 in 1995, changed to FSU6 in 2000, and in 2002 became 4fsu. The station was part of a group of cable stations created in a deal between The City of Tallahassee and Comcast Cable in the mid 1990s. Other cable stations created as a part of this agreement belong to: The City of Tallahassee, The Florida Agricultural and Mechanical University (FAMU), Tallahassee Community College (TCC), Leon County Public Schools and general Public Access.
Availibility
Access is currently availble to Comcast cable subscribers only in Leon, Wakulla, Gadsden, Madison, and Taylor counties in Florida as well as Brooks County in Georgia.
On-The-Job Training
Working as a volunteer, students can get valuable experience in all aspects of the television station. Please contact Suzanne Smith (smsmith2@fsu.edu) if you are interested in finding out more.
Progamming
College of Music Concerts - 4fsu features many of the FSU College of Music concerts and recitals that take place in the University music halls. Check the programming schedule to find out which are being featured this month.
Lectures and Events - 4fsu documents and cablecasts many of FSU's most prestigious events
University Update - a student-hosted group of segments keeping you up-to-date on events happening in the FSU community
Graduation - 4fsu will cablecast FSU graduation ceremonies
4fsu features many of the robust events happening around Florida State University. Please view the current programming schedule to find out more.
Online
4fsu maintains a YouTube channel where you can find student-produced programming.