Mountains, Hills, & Mounds Summer Challenge
Welcome back to the WFSU Summer Challenge!
For our sixth annual event, sponsored by Envision Credit Union, we're digging deep into our local ecology to investigate questions including…
How do the Mountains, Hills, and Mounds of the Big Bend region mould our local ecology?
What history can we uncover when we explore these sorts of geological formations?
Which critters call these spaces home, and how have they evolved along with them?
We hope you'll join us as we adventure across the Big Bend region, visiting with amazing local experts and community partners who are eager to share their knowledge and resources with you! This year, key partners and special features will include the Community Classroom Consortium, Department of Environmental Protection, Wakulla State Park, Museum of Florida History, Florida Public Archaeology Network, Southern Shakespeare Company, LeRoy Collins Leon County Public Library System, The WFSU Ecology Blog.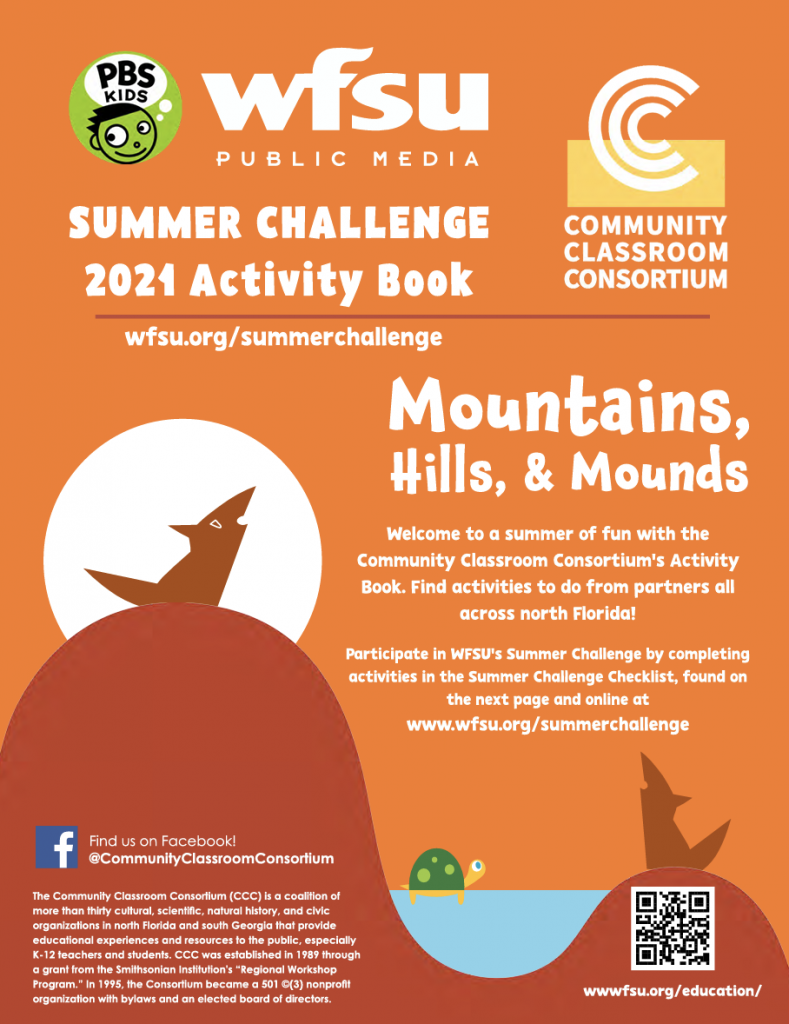 2021 Summer Challenge Kickoff Info
What is the Virtual Summer Challenge Kickoff?
An interactive virtual event for kids and families to watch and do engaging and educational activities, while also learning from WFSU's many friends and partner organizations. Each year, this event launches your PBS KIDS station's longest-running summer learning initiative – and a major tool for parent and teacher toolboxes for combatting the summer slide! Read on to learn about the Summer Challenge checklist and how it can keep the fun going all summer long. 
What is the WFSU Summer Challenge checklist?
The Summer Challenge Checklist is our special list of fun activities you can do along with your children all summer long. Keep track of what activities you complete, document them with photos, and earn points for each activity you do. Tag us on Facebook or Instagram (@wfsueducation) and use the hashtag #WFSUsummerchallenge. At the end of the summer, send us your checklist and images to earn prizes based on how many points you earn! Checklists are due by August 1, 2021.  
How can I watch the Live Virtual Summer Challenge Kickoff?
Tune in on WFSU-TV, Facebook, or check in here on this page to find a stream of the event! If you can't catch it the day of the event, you can watch it at any point online, and check in often for more content from us and from our partners throughout the summer.
The kickoff will air on WFSU-TV (check local listings for channel) at 10:30 a.m. ET and 11:30 a.m. ET on Saturday, June 5th, 2021.
Who can I expect to see on WFSU's Virtual Summer Challenge Kickoff?
This year we are partnering with the Community Classroom Consortium, CampTV, Cyberchase Green It Up, and PBS KIDS.
How do I participate in WFSU's Summer Challenge after the Virtual Kickoff?
Beginning June 5th, 2021, pick up your supplies at any Leon County Library. You can also print the checklist from home. Click the checklist button below.
Questions? Please email education@wfsu.org.