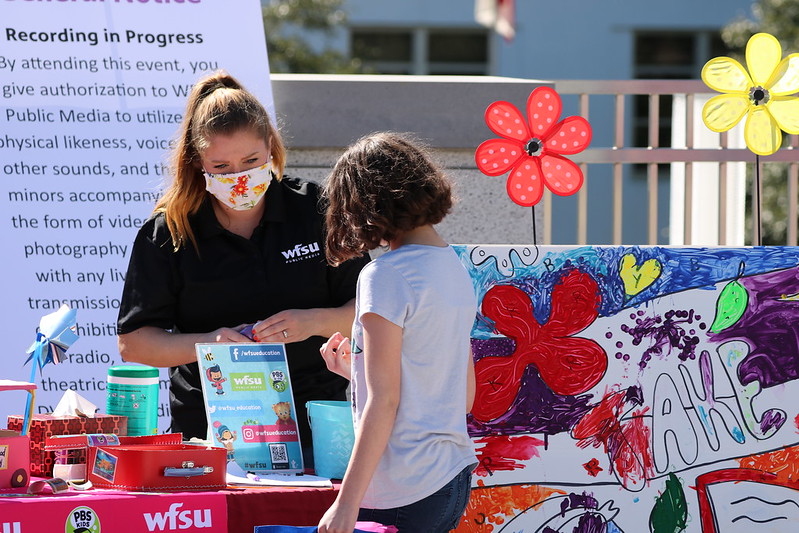 Education Volunteering & Internships
WFSU's Education and Engagement team provides resources to encourage healthy early learning. Through online tools, community events, television programs, learning symposiums, and more, WFSU is dedicated to helping children learn.
Whether you are an education professional or a student interested in education, there are many opportunities for you to further your experience and have a little fun with WFSU. We need general volunteers for events, which occur 5-6 times a year. We also have opportunities for internships that require a regular, weekly commitment.
Please note that because we work with children, all volunteers in the Education department must have security clearance from a school district or a background check from another institution or organization. WFSU does not supply or coordinate these measures for volunteers, so you must have a current photo badge from your school district, or another form of identification that proves you have received screening. 
If you are interested in volunteering for the education department, please send an email with mention of your background check clearance and issuing institution to tweinstein@fsu.edu. Please use "Education Intern/Volunteer" in the subject line.
Radio News Internships
The Radio News team accepts interns on an as-needed basis. No broadcast experience is necessary to receive an internship placement, but some experience is preferable. Additionally:
Internships can be done for credit at various universities.
Interns are expected to keep a regular schedule, working at least 2-3 days per week (and ideally more).
The internship does not guarantee on-air work, but successful interns will earn the opportunity to do stories for air.
Internships can be tailored somewhat to interest in government, education, the environment, or health care.
Some knowledge of Florida government is a plus.
Applicants should be proficient with Microsoft Word.
Knowledge of social media is helpful.
If you are interested in interning in the radio news department, please submit a cover letter and resume to Lynn Hatter, at lhatter@fsu.edu or call 850-645-6078. Please include your favorite WFSU-FM program in your cover letter.
Television Production Internships
Priority for internships in TV production is given to university students in related academic programs. Internship applications are accepted only after academic recommendation. If you are interested in interning or volunteering in TV production, please consult a professor or advisor in the College of Communication and/or media department at your higher education institution. You may contact Paul Dam with questions related to WFSU television production internships (pdam@fsu.edu).